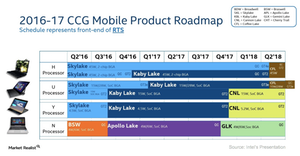 What Happened to Intel's Technology Model?
By Puja Tayal

Aug. 29 2017, Updated 3:05 p.m. ET
Intel's technology model
Intel (INTC) is shifting its focus away from tradition PC (personal computer) and server processors to artificial intelligence, automotive, and memory. This has brought a large change to its popular tick-tock manufacturing model, under which it launches a new microprocessor every year, which equates to two microprocessors for every node.
The company's technology model was based on Moore's law, which states that the size of a chip will shrink every two years, while the number of transistors per chip will increase, thus improving the performance and reducing the cost and power consumption per bit. As Moore's law slowed, the company lengthened the time of one process node from two to three years by optimizing the node on three microprocessors.
Originally, Intel planned to launch three microprocessors each on the 14 nm (nanometer) and 10 nm nodes. However, the latest update shows that the 14 nm node would consist of five microprocessor architectures: Broadwell, Skylake, KabyLake, Kaby Lake-R, and Coffee Lake.
Article continues below advertisement
The slowdown in innovation is giving competitors including Advanced Micro Devices (AMD), TSMC (TSM), and Samsung (SSNLF) a chance to bridge the technology gap they have with Intel. While Intel has yet to launch its 10 nm node, Samsung has already started production on the 10 nm node. AMD has also launched its 14 nm Ryzen desktop processors, which compete with Intel's Skylake and Kaby Lake.
Intel's definition of "generation" changes
With the change in technology models, Intel has also revised the definition of "generation." Previously, a new generation either introduced new process technologies—such as the shift from the 22 nm Haswell to the 14 nm Broadwell—or introduced improved versions of previous architecture—just as the 14 nm Skylake was an improved version of 14 nm Broadwell.
Intel's eighth-generation Core chips would combine both the options and would include three improved chip architectures and two process technologies: 14+ nm Kaby Lake refresh, 14++ nm Coffee Lake, and 10 nm Cannonlake.
Is Kaby Lake Refresh qualified to become a new generation Core? 
Many analysts were expecting Intel's eighth-generation Core series to start with the 14++ Coffee Lake. Hence, the launch of Kaby Lake Refresh raised questions if it would even qualify to become a new generation core, as its architecture for CPU (central processing unit) and its integrated GPU (graphics processing unit) is the same as the seventh-generation Kaby Lake.
Addressing these questions, Intel stated that Kaby Lake refresh brings up to 40% improvement in speed compared with its predecessor, which is way above the 12% productivity improvement brought by the seventh-generation processor. Such a significant upgrade is sufficient for generational rebranding.
Intel stated that it would launch more eighth-generation products in the fall of 2017 and start of 2018. We'll look at the company's product roadmap in the next part of this series.