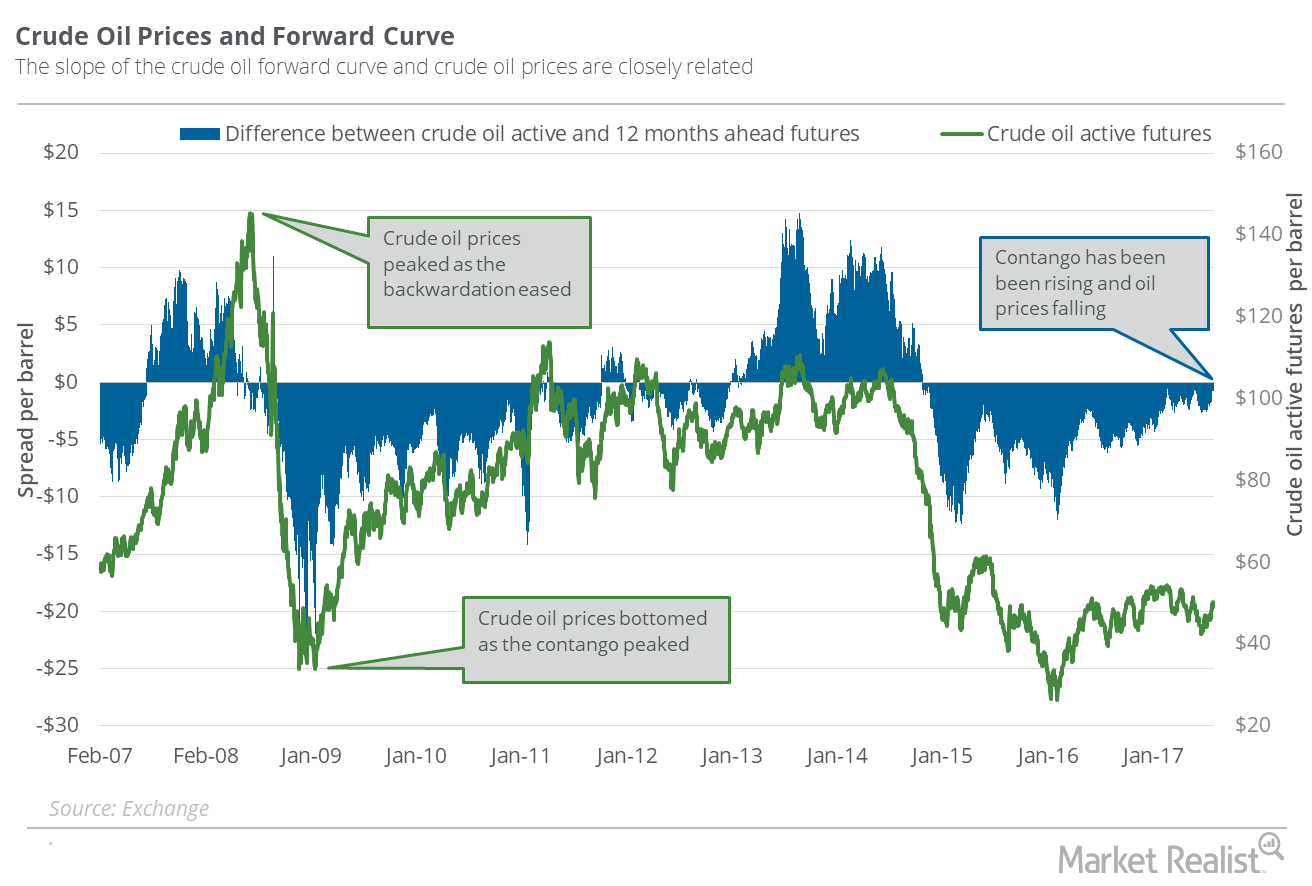 What Futures Hold: Good News for Oil Bulls?
By Rabindra Samanta

Aug. 3 2017, Updated 9:11 a.m. ET
Futures spread
On August 1, 2017, US crude oil (USO) (DBO) (USL) September 2018 futures settled at $0.73 above September 2017 futures. On July 25, 2017, the premium was $1.30. US crude oil futures rose 2.7% between July 25 and August 1, 2017.
Article continues below advertisement
Contango
In "contango," the curve of futures contract prices plotted according to their expiry months slopes upward, as it does now. Oil prices normally trade weaker during rising contango. For example, on June 21, 2017, when US crude oil active futures fell below $43, the contango futures spread expanded to $2.62. Also, on February 11, 2016, when oil prices fell to their 12-year low, the spread expanded to $12. Conversely, when this spread contracts, prices can strengthen.
Backwardation
In "backwardation," the slope of futures contract prices plotted according to expiry dates is downward. Rallies in oil prices are usually associated with expanding backwardation. In one such example, US crude oil active futures reached their highest pre-crisis level of $107.26 per barrel on June 20, 2014. On the same day, the discount of 12-month US crude oil futures to active futures rose to $10.50. Therefore, the shape of the futures forward curve could hint at important changes in the supply and demand of oil and storage dynamics.
In the trailing week, oil prices gained as the contango futures spread contracted. A potential shift towards backwardation could be an important development for oil traders.
Importance of the futures forward curve
Oil futures' forward curve could be important in US oil producers' (XOP) (DRIP) hedging-related decisions and could impact midstream companies' (AMLP) oil storage and transportation businesses. Additionally, because of contago in the last few years, the United States Oil ETF (USO) has fared poorly compared with US crude oil active futures. Currently, futures prices to December 2025 are trading at progressively higher prices than active futures. For more on upstream stocks, read Everything You'd Better Know about Upstream Energy Companies.