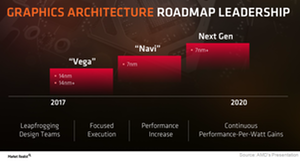 What Does the Rumor Mill Say about AMD's Vega and Navi GPUs?
By Puja Tayal

Aug. 23 2017, Updated 6:36 a.m. ET
Could Asus come up with dual-GPU design
In the previous part of the series, we saw that third party reviews suggest that Advanced Micro Devices (AMD) won't be able to beat NVIDIA (NVDA) in the performance arena. AMD's Vega GPUs (graphics processing units) lag behind NVIDIA's GeForce GTX 1080 Ti and Titan XP in terms of performance and behind the GTX 1080 in terms of power efficiency.
AMD's add-in-board partner Asus is looking to bridge this gap with a dual-chip GPU design. Wccftech reported a rumor that China's (MCHI) Asus is looking to combine two RX Vega 64 GPUs to build a monstrous GPU that beats NVIDIA's GPUs. If we multiply the specs of Vega 64 by two, the Asus dual GPU would deliver over 50 TFLOPs (tera floating point operations per second) of compute performance and 25 TFLOPs of FP32 performance while consuming up to 600 watts of power. Such a high power GPU would require liquid cooling.
If the Vega 64 liquid-cooled version is priced at $600, the Asus dual GPU is likely to carry a price tag of around $1,500. Asus may not make much profit from it. Thus, it may launch it as a very limited edition card.
Article continues below advertisement
What is the rumor mill saying about Navi?
According to AMD's GPU roadmap, Vega will be succeeded by AMD's Navi GPU architecture, which would build on GlobalFoundries 7-nm (nanometer) FinFET (fin field effect transistor) node and launch it in 2018.
Hot Hardware reported a rumor that Navi would be AMD's first GPU with AI (artificial intelligence) circuitry. Fudzilla reported that Radeon Technologies Group head Raja Koduri intended to bring AI functionality in Vega but fell short of time and resources to do so.
Navi's launch date gives AMD enough time to bring AI functionality just like NVIDIA did in its Volta GPU. Tesla V100 GPU features 640 Tensor cores dedicated for AI workloads, pushing the GPU's performance 12x when compared to Pascal. Such hardware performance is what AMD intends to bring with Navi.
All these rumors lead to the question, Is AMD considering developing a multi-GPU design? We will dig deeper into this question in the next part.