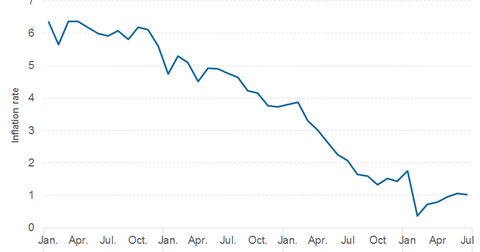 What Do Inflation Numbers in Macao Indicate?
By Ally Schmidt

Updated
Inflation rate
Inflation is a general increase in the price of goods and services, leading to a fall in purchasing power. Macao's annual inflation as measured by the composite consumer price index rose 1.03% YoY (year-over-year) in July 2017, which was lower than the 1.06% inflation rate in June 2017.
Despite the decline, inflation has been on a rising trend since February 2017, when Macao's inflation rate reached a low of 0.37%, according to data released by the Statistics and Census Service (or DSEC). Prior to that, inflation had been on a declining trend since February 2016, when it touched a high of 3.9%.
Article continues below advertisement
The slight decline in inflation was due to slower price increases of Transportation and Miscellaneous Goods and Services. Transportation, which accounts for 11.0% of the index, rose 2.2% YoY compared to 2.5% in June. Miscellaneous Goods and Services, which accounts for 9.0% of the index, rose 0.84% YoY compared to 1.6% in June.
Food and Beverages, which account for the largest share of 29.0% of the index, rose 1.8% YoY. Clothing and Footwear, which accounts for 6.5% of the index, rose 1.8%.
Healthcare and Education registered the highest growth. Healthcare, which forms 3.0% of the index, rose 5.2% YoY. Education, which makes up 2.9% of the index, rose 7.5% YoY. By contrast, Communication, which forms 2.5% of the index, registered the largest fall of 5.8%.
Consumer price index
The consumer price index rose 1.1 percentage point YoY to 109.5 from 108.4 in July 2016.
Takeaways
The International Monetary Fund forecasts Macao's inflation rate to rise to 2.0% in 2017 and then further rise to 2.2% in 2018. Some analysts are estimating that the inflation rate will reach 3.0% by 2020.
Investors can gain exposure to casino stocks by investing in the PowerShares Dynamic Leisure & Entertainment ETF (PEJ), which invests 14.7% of its portfolio in casinos. It invests 5.4% in MGM Resorts (MGM) and 3.2% in Wynn Resorts (WYNN). However, it has no holdings in Las Vegas Sands (LVS) or Melco Crown Entertainment (MPEL).