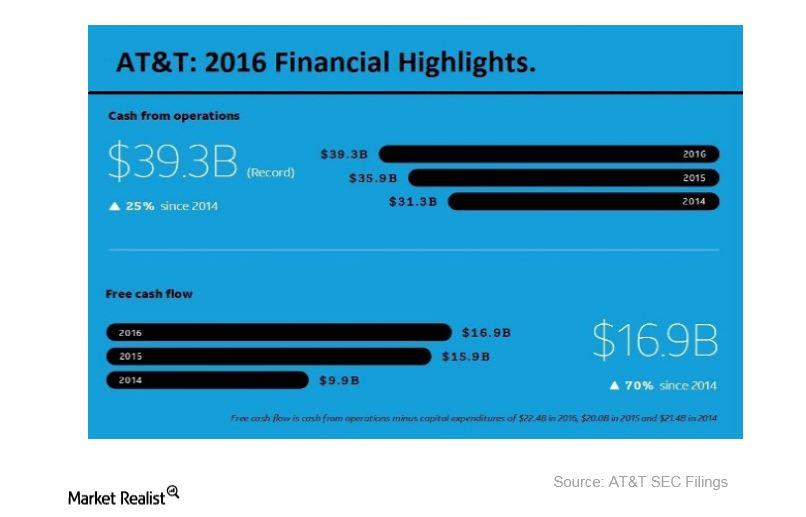 What AT&T Could Resemble after Swallowing Time Warner
Dual organization structure
As much as the AT&T-Time Warner merger review is still shrouded in uncertainties, AT&T (T) is going ahead with preparations for a new corporate structure made up of Time Warner's (TWX) assets.
According to the Wall Street Journal (citing unnamed sources), AT&T intends to run a dual organization structure once it completes the acquisition of Time Warner. The plan is to retain Randall Stephenson as the overall head of the combined company, but telecom and media operations would be separated into two distinct divisions headed by two chief executives.
Article continues below advertisement
AT&T seems interested in media independence
The telecom unit would house AT&T's wireless business and DIRECTV assets, while the other division would largely consist of Time Warner's assets, which include Warner Bros, HBO, and Turner Cable (which runs CNN).
Such a corporate structure would suggest that AT&T wants to give its news media operations the autonomy it would need to stay independent. But some critics have expressed fears that AT&T could try to exert editorial influence on CNN once it comes under its control. Notably, CNN has a rocky relationship with President Donald Trump, who has repeatedly referred to the long-established news outlet and media source as "fake news."
Taking a page from Comcast
Comcast (CMCSA) also runs a dual organization structure, wherein its cable unit and NBCUniversal are run by different executives who report to one overall CEO (chief executive officer.
By comparison, Verizon Communications (VZ) has created a separate unit called Oath for its media and advertising business, which consists of its recently acquired Yahoo assets. Notably, a remnant of the old Yahoo transformed into the holding company Altaba (AABA), which has stakes in Alibaba (BABA) and Yahoo Japan.