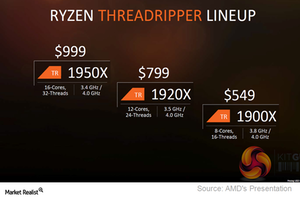 What AMD's Ryzen Threadripper Offers Consumers
By Puja Tayal

Aug. 18 2017, Updated 2:37 p.m. ET
AMD's Ryzen Threadripper series 
Many analysts are bearish on Advanced Micro Devices (AMD), as its earnings growth was largely driven by cryptocurrency growth instead of Ryzen 7 and 5 CPUs (central processing units). However, some analysts believe that AMD still has potential as the company progresses with the launch of its high-end products.
AMD took the PC (personal computer) market by storm with its new Ryzen Threadripper. The last time AMD took the PC market by storm was in 2003 with its Athlon 64 processors. Reviewers state that Threadripper is the world's most powerful consumer CPU to date, as Intel generally reserves such high-performance chips for the data center.
Article continues below advertisement
Ryzen Threadripper highlights
AMD has launched three versions of Threadripper:
AMD's 16-core, 32-thread Ryzen Threadripper 1950X is priced at $1,000 and has a base clock speed of 3.4 GHz (gigahertz). In response, Intel (INTC) unveiled the 18-core, 36-thread i9-7980XE CPU priced at $2,000.
AMD's 12-core, 24-thread Ryzen Threadripper 1920X is priced at $800 and has a base clock speed of 3.5GHz. Intel's new i9-7920X has identical specs, but it is priced at $1,200.
AMD's 8-core, 16-thread Ryzen Threadripper 1900X is priced at $550 and has a base clock speed of 3.8GHz. It is similar to Ryzen 7 1800X but with a more capable X399 motherboard.
As all three Threadripper CPUs are unlocked for overclocking, their speed can be boosted to 4GHz. While the first two CPUs were released on August 10, 2017, the third CPU is due to release on August 31, 2017.
Ryzen architecture
Intel adopts a monolithic design for its CPUs, but AMD has adopted a modular chip design for its Ryzen series. Instead of fitting everything on a single silicon, AMD took two core complexes and joined them using its high-speed Infinity Fabric interconnect.
Threadripper's base architect is the same as AMD's EPYC server processor, which has four eight-core dies interconnected through Infinity Fabric. Threadripper also has four chips of which two are eight-core dies and the other two are dummy pieces to add structural support for the cooler. The lower version of Threadripper has an equal amount of cores disabled from each of the two eight-core dies. Thus, it has 12-core and 8-core versions.
NVIDIA (NVDA) welcomed the launch of Threadripper and recommended users pair the CPU with its GeForce 1080 Ti GPU. Next, we will look at Threadripper's specifications and third party reviews on the CPU.