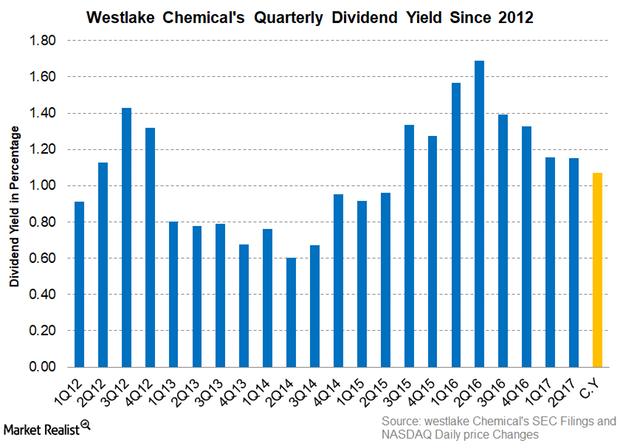 Westlake Chemical Has a Low Dividend Yield
Westlake's dividend yield
Apart from capital gains, the other major attribute that long-term investors will look for before investing in a stock is dividend yield. Investors prefer that stock has a higher dividend yield. A dividend yield is a return that investors get for every dollar they have invested in a company's equity.
With Westlake Chemical (WLK) increasing its dividend 10.20% compared to its previous quarterly dividend, we can expect its dividend for fiscal 2017 to be ~$0.80. As of August 28, 2017, Westlake Chemical's dividend yield stood at 1.1%.
Article continues below advertisement
In comparison, its peers Eastman Chemical (EMN), Huntsman Chemical (HUN), and LyondellBasell (LYB) have current dividend yields of 2.40%, 1.80%, and 4.0%, respectively. Westlake Chemical's current dividend yield of 1.1% is lower than the dividend yield on one-year Treasury notes. It could be a concern because long-term investors might stay away. There are other stocks with higher dividend yields. Since 2012, Westlake Chemical's dividend yield has been 0.90%–1.70%. It indicates that Westlake Chemical's stock price has grown at a higher pace than its dividend growth rate. Westlake Chemical's stock price has more than doubled since 2012.
If Westlake Chemical wants to maintain a healthy dividend yield, it has to increase its dividend aggressively. However, insufficient free cash flow could be a concern.
Dividend payout
At the end of 2Q17, Westlake Chemical's dividend payout ratio stood at 17.10%. Since 2012, its dividend payout has been 9.0%–24%. The payout ratio has been rising since 2013, but it's still lower than its peers. A lower payout ratio indicates that the company will have more cash for its future expansion plans.
Investors looking to hold Westlake Chemical indirectly can invest in the First Trust Large Cap Value AlphaDEX Fund (FTA). FTA has invested 0.80% of its portfolio in Westlake Chemical as of August 28, 2017.
In the next part, we'll look at analysts' views and recommendations for Westlake Chemical.