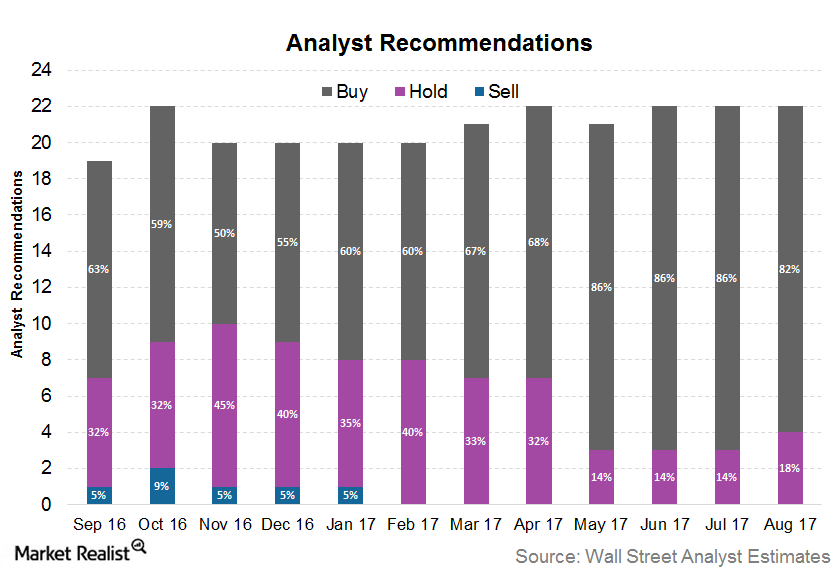 Energy Transfer Partners Mainly Received 'Buy' Ratings
Analysts' ratings for Energy Transfer Partners
As of August 23, 2017, 82.0% of the analysts rate Energy Transfer Partners (ETP) as a "buy" and the remaining 18.0% rate it as a "hold." Energy Transfer Partners was last upgraded by Credit Suisse from "neutral" to "outperform," which is equivalent to "buy." Overall, the partnership has seen three rating updates since the beginning of 2017—two upgrades and one downgrade.
Currently, the partnership is trading below the low range ($23) of analysts' target price. The average target price of $27.3 for Energy Transfer Partners implies a massive ~48% return from its current price levels. Its peers, Enterprise Product Partners (EPD) and Williams Partners (WPZ) have "buy" ratings from 96.3% and 72.2% of the analysts surveyed by Reuters. Energy Transfer Partners' general partner, Energy Transfer Equity (ETE), has a "buy" rating from 65.0% of the analysts.
For more coverage on midstream companies, visit Market Realist's Master Limited Partnerships page.
Article continues below advertisement