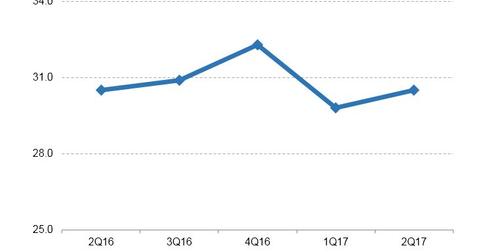 Verizon's 2Q17 Report: Tracing the Impact of Unlimited Data Plans
By Ruchi Gupta

Updated
The return to unlimited plans
Verizon's (VZ) 2Q17 earnings marked the first full quarter since the carrier reintroduced its unlimited data plans after staying out of the space for more than five years. Verizon and AT&T (T) started offering unlimited data plans in February. These rollouts were in response to disruptions from their smaller rivals T-Mobile (TMUS) and Sprint (S), which had started offering unlimited plans several months earlier.
The impact of returning to unlimited data offerings became more visible in Verizon's latest earnings report. The company added 614,000 postpaid subscribers in 2Q17, significantly more than 70,000 postpaid subscribers that Wall Street was expecting for the quarter.
Article continues below advertisement
Postpaid phone additions up sharply
Of the 614,000 postpaid subscribers Verizon (VZ) added in 2Q17, 358,000 were phone customers. That implies a tremendous improvement, considering that Verizon only added 86,000 postpaid phone subscribers in 2Q16.
In addition to the return to unlimited data plans helping Verizon to draw more subscribers to its network, it can also help the company improve customer retention. The company reported a churn rate of 0.94% for 2Q17, better than the expected 1.1% churn rate, which measures customer defection. It seems that Verizon's unlimited data offering is stemming the loss of customers to its rivals.
Subscriber gains drives up top line
Verizon generated revenues of more than $30.5 billion in 2Q17, above the consensus estimate of $29.9 billion. The chart above shows Verizon's quarterly revenue trend line.
To bolster its competitive edge in a saturated and highly competitive US (SPY) wireless operator market, Verizon has been investing in expanding and upgrading its network infrastructure.