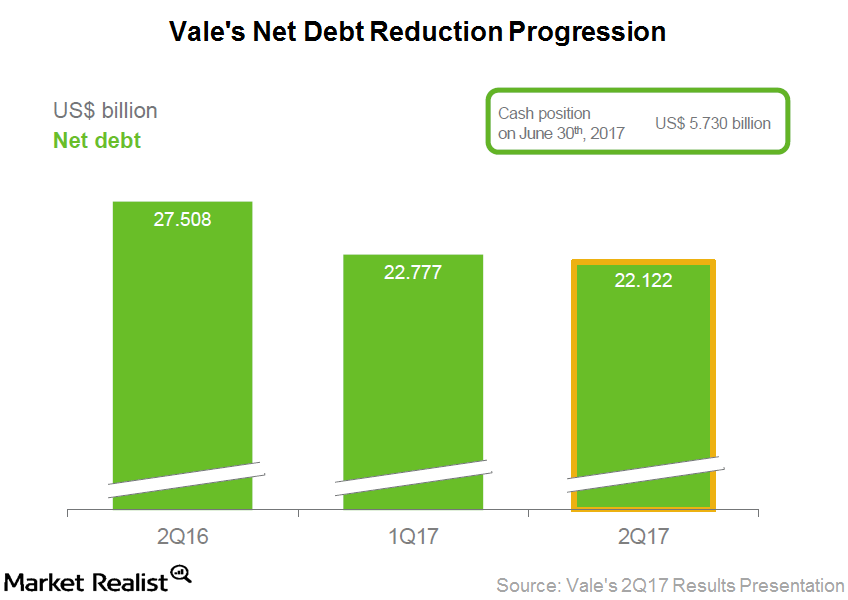 Why Vale Is Aiming for Lower Debt than Its Stated Target
Balance sheet position
While investors are happy about Vale's (VALE) production and cost progress, high debt still remains its Achilles's heel. The debt escalation for the company happened as it embarked on its growth phase, particularly its S11D project. This is particularly a concern for investors, as capital projects started at the peak of the commodity (XME) cycle are completing when commodity prices are weakening. Investors should also note that unlike Vale, the heavy capital deployment stage for most of its peers such as Rio Tinto (RIO), BHP Billiton (BHP) (BBL), Vale (VALE), and Cliffs Natural Resources (CLF) is over for now. That said, Vale is leaving no stone unturned to reduce its debt.
Article continues below advertisement
Balance sheet position
Vale had a net debt of $22.1 billion at the end of 2Q17, a reduction of $655 million in the second quarter alone. The company maintained that due to the strong cash flow generation during the quarter, the company was able to pay dividends, make payments for the Sumic put option, and also reduce net debt in 2Q17. It also had a cash balance of $5.7 billion at the end of June 2017.
During its 2Q17 earnings call, the company's CEO, Fabio Schvartsman, said that the trend of debt reduction is here to stay and in fact, there will be an acceleration of the reduction in debt in the next quarters. He also mentioned that with this, Vale will put behind the issue of high indebtedness. The company maintains that its cash will be utilized towards the repurchase of its debt. This strategy will also reduce its financial expenses going forward. Vale's management is confident that the company will reach a comfortable financial leverage level by the end of 2017.
Too much debt and dependence on one commodity
Vale had set a net debt target in the range of $15 billion to $17 billion by the end of 2017. Since there was no mention of this target during the earnings call, a question came up in regards to its current target. While answering this question, the CEO mentioned that with too much dependence on one volatile commodity, iron ore, the company needs to have net debt lower than the target level. He also added that Vale needs to have the lowest level of debt, and it's moving in that direction.