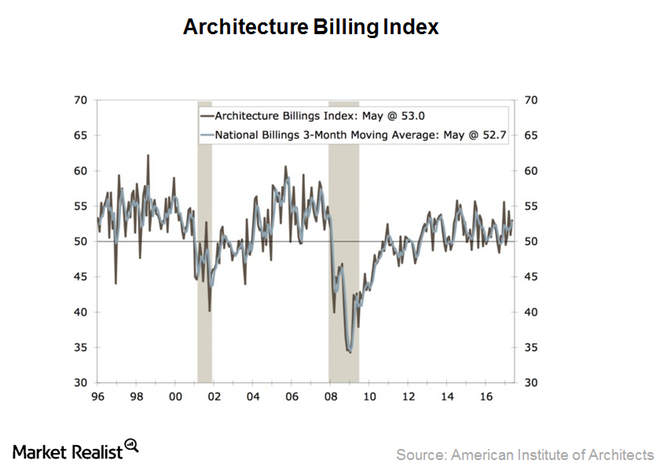 What US Steel Demand Means for Cliffs Natural Resources
By Anuradha Garg

Aug. 4 2017, Updated 9:10 a.m. ET
Demand indicators
Since steel demand drives production, investors should look at steel demand trends in the United States (DIA) (DOW). These steelmakers are customers of Cliffs Natural Resources (CLF).
Construction is one of the most important sectors to track when assessing steel demand. Housing starts and building permits are the leading indicators of residential construction activity.
After disappointing numbers for the last three months, the data for housing starts were slightly encouraging in June 2017. US housing starts totaled ~1.22 million in June against expectations of ~1.16 million. That represents a seasonally adjusted rise of 8.3% year-over-year. Both single-family and multifamily construction rose in June, which led to the increase.
US building permits also rose 7.4% to ~1.25 million units in June, the highest level since March 2017.
Article continues below advertisement
In line with firmer housing starts and building permits, the ABI (Architecture Billings Index) also rose in June. The ABI, which is a leading indicator of non-residential construction spending, rose from 53.0 in May to 54.2 in June. That trend reflects an increase in design services. A score above 50.0 indicates an increase in billings.
Cliffs Natural Resources' CEO (chief executive officer) Lourenco Goncalves mentioned during the company's 2Q17 earnings call that US steel demand continues to improve, but service centers insist on keeping dangerously low inventories.
US auto demand
According to recent data compiled by Autodata, US truck sales rose 4.1% year-over-year in the first half of 2017, and small car sales fell 13.2%. Ongoing weakness in the auto sector is hurting US revenues for automakers (FXD) such as Ford Motor (F), Fiat Chrysler Automobiles (FCAU), General Motors (GM), and Toyota Motor (TM).
Lower demand from the auto sector has hit AK Steel's (AKS) 2Q17 shipments. Investors should note that AKS gets more than 60.0% of its revenues from this sector.