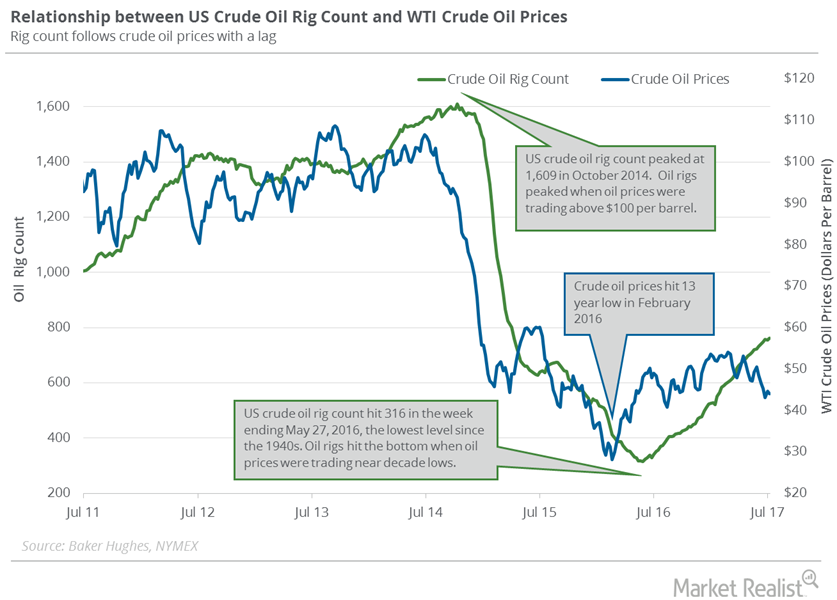 US Crude Oil Rig Count Rose 10 in July, Lowest since March 2016
By Gordon Kristopher

Aug. 1 2017, Updated 12:06 p.m. ET
US crude oil rig count 
On July 28, 2017, Baker Hughes (BHI) released its weekly US crude oil rig count report. The US crude oil rig count rose by two to 766 from July 21–28, 2017. US crude oil rigs rose by ten, or 1.3%, in July 2017 compared to June 2017. It's the lowest monthly rise since March 2016.
US rig counts may have slowed down due to lower crude oil prices in 2Q17. US crude oil prices averaged $51.70 per barrel in 1Q17 compared to $48.25 per barrel in 2Q17. US crude oil prices have fallen 12.0% year-to-date.
US crude oil rigs rose by 392, or 105.0%, from the same period in 2016. Rigs have risen due to the rise in crude oil prices in the second half of 2016.
Article continues below advertisement
US crude oil rig count: Peak and low
The US crude oil rig count hit 1,609 in October 2014, the highest level ever. In contrast, rigs hit 316 in May 2016, the lowest level since the 1940s. Rigs have risen more than 142.0% from the lows in May 2016. 
Impact 
Some traders believe that US drilling activity could slow down due to the rise in drilling costs. However, US drilling activity could rise in 2017 for the following reasons:
President Trump's energy plans
a market survey that $57.0 billion has been invested in US shale oil production in the last 18 months
OPEC's (Organization of the Petroleum Exporting Countries) production cut deal that could support crude oil prices and US crude oil production
technological advancements
improving efficiency
The rise in US crude oil production could pressure oil prices. Changes in oil prices impact the earnings of drillers such as Rowan Companies (RDC) and Diamond Offshore Drilling (DO).
For more information on crude oil price forecasts, read Hedge Funds' Net Long Positions in US Crude Oil Rose Again.
You can also read Crude Oil Market: Are the Bulls Overshadowing the Bears? and Crude Oil Futures Are near a 2-Month High.
Also see US Natural Gas Market: Fundamental Insights for Investors for more on natural gas.