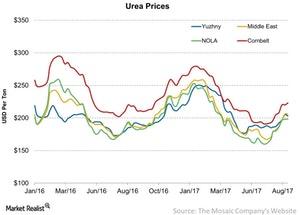 Urea Prices Pause for Week Ended August 25
By Adam Jones

Updated
Urea prices
Last week, which ended August 25, 2017, the price of urea paused on its upward momentum. Urea prices have recently had an upward momentum as a result of capacity curtailment. Producers rationalized their production economics amid subdued urea prices.
Article continues below advertisement
Weekly prices
Last week, urea prices were mostly mixed. Granular urea prices in the US Cornbelt rose 1.4% week-over-week to $202 per metric ton from $200 per metric ton a week ago.
However, granular urea prices in the NOLA (New Orleans) region of the United States were broadly flat week-over-week at $180 per metric ton. Similarly, granular urea prices in the Middle East remained unchanged week-over-week at $206 per metric ton.
The weekly price momentum for prilled urea at the Yuzhny location in Ukraine moved lower week-over-week by as much as 1.0% to $203 per metric ton, from $205 per metric ton a week ago.
Temporary pause?
In the recent 2Q17 earnings for CF Industries (CF) and PotashCorp (POT), we saw that the outlook for nitrogen fertilizers, which include urea, was broadly weak as we step into the second half of 2017. That may also prove negative for companies such as Terra Nitrogen (TNH) and Agrium (AGU).
However, last week's pause in urea prices could be temporary. Producers (MOO) have faced a negative environment as a result of lower fertilizer prices, forcing some of them to curtail production.
But the topic of the price of nitrogen is incomplete without talking about movement in natural gas prices. Let's look next at how they moved last week.