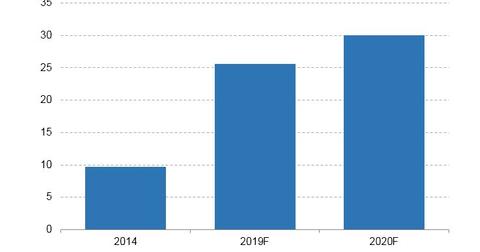 Unpacking Verizon's Interest in Fiber-Optic Assets
By Ruchi Gupta

Updated
Verizon acquires Chicago-area fiber network
Verizon (VZ) has been accumulating network assets in the past few months. The telecom carrier has spent or committed billions of dollars to obtain existing fiber networks or order supplies of fiber-optic cables to build new fiber networks.
On August 1, Verizon stated it would spend $225 million to acquire a high-capacity fiber network in the Chicago area belonging to WideOpenWest (or WOW). Verizon had been leasing this fiber network, which provides connectivity to more than 1,000 cell sites of different scales.
In May, Verizon edged out rival AT&T (T) in a bidding war for Straight Path Communications, a firm that holds a valuable spectrum portfolio. Verizon agreed to pay $3.1 billion for Straight Path Communications, significantly more than AT&T's offer.
Article continues below advertisement
Fiber cable supply deals
In February, Verizon agreed to acquire the fiber network business belonging to XO Communications for $1.8 billion.
Verizon's other network buildout moves include a deal with Corning (GLW) to be supplied with millions of miles of fiber-optic cables worth about $1.1 billion. Verizon struck a similar fiber cable supply deal with Prysmian Group.
What is Verizon's agenda?
Verizon's (VZ) agenda in these infrastructure deals has a lot to do with providing next-generation network services to its customers. These services include 5G networks, which can support surging network traffic demand resulting from emerging trends such as the IoT (Internet of Things) and online television services.
Research firm IDC forecasts that the global IoT installed base could reach 30.0 billion by 2020, as shown in the chart above. Verizon is working with Ericsson (ERIC) for its 5G network buildout.