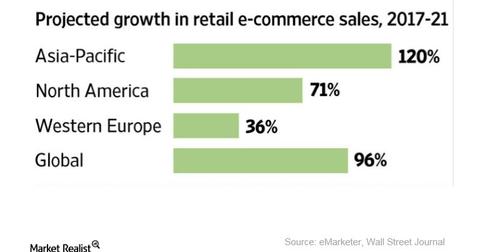 Understanding JD's Overseas Expansion Formula
By Ruchi Gupta

Updated
Overseas expansion to unfold in two channels
You may have heard that JD.com (JD) and Alibaba (BABA) are racing to expand into China's (MCHI) (FXI) rural markets as growth in major cities slows amid market crowding. However, JD's real expansion plan goes beyond China's borders. The company is seeking greater overseas presence.
JD founder and CEO Richard Liu recently discussed what the company is up to and highlighted its roadmap. In an interview with The Wall Street Journal in June, Liu outlined JD's international expansion plan and said it is pursuing two channels in the overseas expansion drive.
Article continues below advertisement
Replicating the Chinese formula
The first channel is to take JD to developing markets with characteristics similar to China's (MCHI) (FXI). Such markets include Indonesia, where JD is planning to make inroads this year. What to understand here is that, in markets like Indonesia, JD can continue its perfected Chinese approach of appealing to customers with low prices.
As shown in the above chart, JD needs a stronger presence in the Asia-Pacific region. The area is projected to register a 120% growth in retail e-commerce sales between 2017 and 2021, according to eMarketer.
Dropping Chinese formula
JD's second channel concerns expanding into developed markets such as the United States (SPY) and Europe (EFA). In developed markets, JD will enter into more direct competition with established rivals such as Amazon (AMZN) and eBay (EBAY), though it doesn't want to carry its Chinese culture with it. Instead, JD's plan is to go upscale in the developed world by targeting the high-end market with premium Chinese goods.