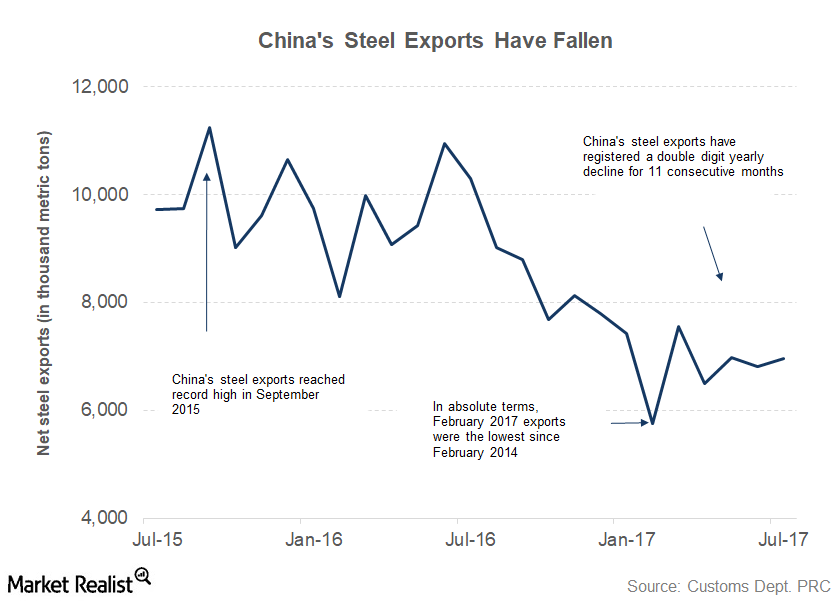 U.S. Steel: A Tale of Delayed and Partially Fulfilled Promises
U.S. Steel
U.S. Steel (X) and other US steelmakers, including AK Steel (AKS) and Nucor (NUE), rallied higher earlier this year on expectations of wide-ranging imports relief after the Trump administration ordered a Section 232 probe into steel imports. However, while markets had expected a ruling by the end of June, it seems the probe could be delayed, and the final recommendations might not be as harsh as some observers expected.
Article continues below advertisement
China's steel exports
Meanwhile, U.S. Steel could take some heart from the trend in Chinese steel exports. According to China, the country is curtailing its excess steel capacity. Although we haven't seen the impact of these capacity cuts in Chinese steel production, which is running at record levels, we've seen a sharp decline in China's steel exports this year.
In July, China exported 6.96 million metric tons of steel products—a year-over-year decline of 32.4%. This is the eleventh consecutive months where the country's steel exports have registered a double-digit yearly decline. In the first seven months of 2017, China exported 47.9 million metric tons of steel—which is 29.0% lower than the corresponding period last year.
Exports have fallen
Notably, China's steel demand has been better than expected this year, which has helped it consume its rising steel production domestically. This is good news for steelmakers on two counts. Not only is China exporting less steel, but we've also seen an increase in export price offers from China amid strong domestic steel prices (XME)(MT).
In the next part of this series, we'll look at China's July aluminum exports.