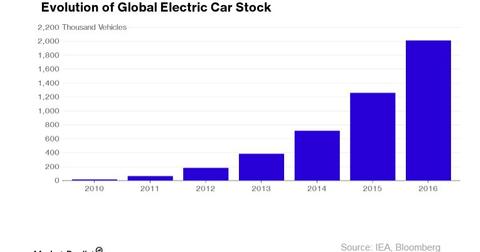 To Decode Qualcomm's Future, Look to Electric Vehicles
By Ruchi Gupta

Updated
Apple action strikes Qualcomm
The patent dispute between Qualcomm (QCOM) and Apple (AAPL) has kept many Qualcomm investors on edge, for valid reasons. Qualcomm lives off the business of selling mobile chips, and licensing wireless technology is its profit staple.
The steep slump in Qualcomm's profit in fiscal 3Q17 (June quarter) was partly due to its standoff with Apple. Qualcomm posted net income of $866 million in 3Q17, down from the ~$1.4 billion reported a year earlier. Revenue also fell, by 11% to $5.4 billion. Apple and its contract manufacturers in Asia are withholding royalty payments to Qualcomm.
Article continues below advertisement
Slowing smartphone market
In addition to the patent standoff (QQQ) with Apple, rising competition from peers such as Intel (INTC) and slowing smartphone shipments also threaten to limit Qualcomm's growth in the mobile chip business. However, if the mobile door closes, there is another potentially more rewarding door about to open for Qualcomm.
Recently, the company has touted its WEVC (wireless electric vehicle charging) technology, and it's starting to win over partners. It recently added Japanese component manufacturer Nichicon as a WEVC associate. Earlier, Qualcomm said it was testing another form of WEVC technology, which allows vehicles to charge on the move, with automaker Renault.
The electric vehicle market is a promising opportunity
Entering the EV (electric vehicle) market could unlock tremendous benefits for Qualcomm. The market for hybrid and electric vehicles, such as those manufactured by Tesla (TSLA), is growing rapidly.
According to Bloomberg, citing the IEA (International Energy Agency), the number of EVs on the roads rose 60% between 2015 and 2016. EVs are expected to account for 30% of cars, vans, trucks, and buses sold by 2030. The IEA added that 600 million EVs will be needed by 2040 to help slow the rise of global temperatures to below 2 degrees Celsius by the end of the century.