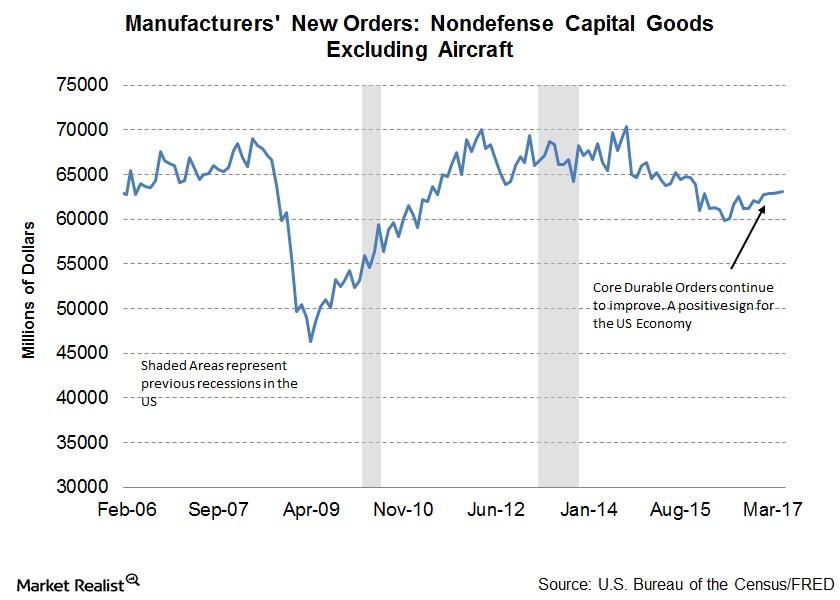 This Industry's New Orders Have Grown in 6 of the Last 7 Months
Nondefense capital goods increase three months in a row
Nondefense capital goods exclude aircraft and core capital goods. The census bureau releases a monthly report that includes data on core capital goods. All machinery, equipment, and tools used by industries requiring large capital investments are collectively known as core capital goods.
The durable goods order report, on the other hand, focuses on companies' new orders, shipped goods, and inventories. As this order data gives investors insight into industries' future production plans, it is considered a leading economic indicator, and has a weight of 4% in the Conference Board Leading Economic Index (or LEI).
Article continues below advertisement
Recent economic data
According to the August LEI, core capital goods orders for July were valued at $37.3 billion, compared with $37.2 billion in June. This figure represents the sixth rise in new orders in the last seven months.
An increase in core capital goods (VIS) orders is considered a positive sign for the economy. Large capital investments, in most cases, translate into new jobs and improved economic productivity and output.
Core durable goods orders' market impact
Shipping (SEA) and durable goods (FXR) companies in the industrial sector (IYJ) stand to benefit if new durable goods orders continue to increase. These industries' performance has a major effect on the S&P 500 (SPY) and the Dow 30 (DIA). In the next part of this series, we'll analyze how the housing sector affected the LEI in July.