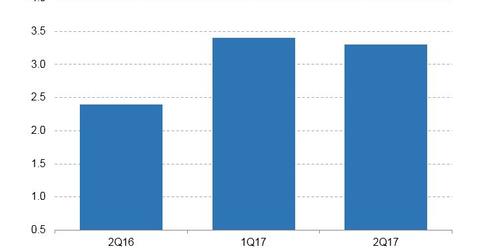 This Google Move Could Torment Apple
By Ruchi Gupta

Updated
Google taking Earth to classrooms
Alphabet's (GOOGL) Google recently made a move that could complicate the playing field for rivals such as Apple (AAPL) and Microsoft (MSFT) in the race to dominate the EdTech (education technology) sector.
The move includes adding Google Earth as a service under Google for Education and enabling students to go on virtual tours of the Earth. For the virtual tours, Google has rolled out a new feature, Voyager, which is designed to make Google Earth more useful for classroom application.
Article continues below advertisement
Voyager offers guided tours within Google Earth. Google partnered with organizations such as the BBC and NASA to provide the virtual tours. In June 2017, it added more partners, including the National Geographic Society and Mission Blue, to expand the lineup of educational explorations available under Voyager, according to a recent TechCrunch report.
More than $250 billion up for grabs in EdTech
Google's push to make Google Earth a vital classroom tool reveals its desire to dominate the EdTech sector, which is estimated to be worth $252.0 billion by 2020. As only 2.0% of the estimated $5.0 trillion global education market has been digitized, the growth potential in EdTech looks huge.
For Alphabet, penetrating EdTech would contribute to its efforts to grow its non-advertising operations, which contributed $3.3 billion to its top line in 2Q17. As competition with Facebook (FB) and Twitter (TWTR) for advertising spends intensifies, Google is naturally seeking new revenue streams outside advertising.
Google seen winning the hearts of educators
According to a recent survey by the Education Week Research Center and EdWeek Market Brief, 52% of educators prefer working with Google as their educational technology supplier, compared with 13% who cited Apple as their preferred EdTech partner.
Now, Google's move with virtual classroom tour support in Google Earth could alienate Apple in the EdTech sector even further.