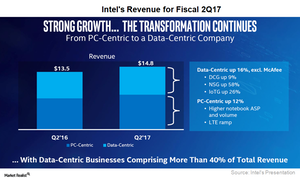 These Factors Could Impact Intel's Revenue in Fiscal 2017
By Puja Tayal

Updated
Intel's revenue streams
Intel (INTC) is increasing its exposure in data-centric markets such as DCG (Data Center Group), IoT (Internet of Things), NSG (Nonvolatile Memory Solutions Group), and PSG (Programmable Solutions Group). These segments contribute 45% to the company's total revenues.
While PC (personal computer) continues to be Intel's largest segment, contributing 55% to total revenues, Intel has reduced its spending in the PC market, which has been declining for the past several years.
Article continues below advertisement
Intel's fiscal 2Q17 revenue
In fiscal 2Q17, Intel's revenues rose 9% YoY (year-over-year) to $14.76 billion, driven by 16% growth in its data-centric business and 12% growth in its PC-centric business. After excluding the security group's revenue, Intel's revenues rose 14% YoY.
In percentage terms, NSG reported the fastest growth of 58% YoY. In dollar terms, the PC business reported the largest revenue growth of $875 million, but this growth is not sustainable because PC shipments are declining. According to Gartner, worldwide PC shipments fell 4.3% YoY in calendar 2Q17.
Intel is banking on DCG and IoT for future growth. The two segments' combined revenues only rose 8.6% YoY in fiscal 2Q17. The slower growth of these two segments has kept investors cautious. Intel's stock has been trading near its 52-week low, despite the company's strong earnings.
Did AMD's Ryzen impact Intel's revenues?
In fiscal 2Q17, Advanced Micro Devices (AMD) launched its Ryzen 7 and Ryzen 5 desktop CPUs (central processing units), which raised concerns that it would take PC processor market share from Intel. However, Intel's PC revenues rose 2.5% sequentially in fiscal 2Q17, which was better than its normal seasonal decline of 2%–3%.
Bernstein analyst Stacy Rasgon stated that Intel's better-than-seasonal PC revenues were driven by significant over-shipments to channels. The revenue growth was largely driven by strong shipments of notebooks—a market wherein AMD has not yet launched competitive products. However, the launch of AMD's Ryzen desktop CPUs pulled down Intel's desktop CPU ASP (average selling price) by 2% in fiscal 2Q17.
Article continues below advertisement
AMD's Ryzen did not impact Intel's fiscal 2Q17 revenues, but it may have an impact going forward, as the former's earnings will likely include sales of its Ryzen mobile processors, its very high-end Threadripper desktop processor, and its EPYC server processor. These processors will directly compete with Intel's PC growth.
Intel's fiscal 2017 revenue guidance
For fiscal 3Q17, Intel expects its revenues to rise 6% sequentially to $15.7 billion. On a YoY basis, revenues should remain flat because fiscal 3Q16 included revenue from its security business. If we exclude the security business, Intel's revenues are expected to grow 3% YoY.
Intel has increased its fiscal 2017 revenue guidance by $1.3 billion to $61.3 billion. This guidance includes modem revenues from Apple (AAPL) and $200 million in revenues from the Mobileye acquisition in fiscal 2H17.
Next, we'll examine Intel's profitability.