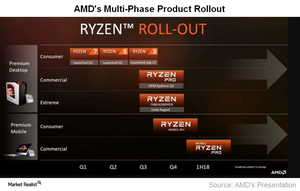 These Factors Could Be Growth Catalysts for AMD
By Puja Tayal

Updated
AMD's growth catalysts
Many analysts are bearish on Advanced Micro Devices (AMD) because of the uncertain growth coming from cryptocurrency miners. Despite this, some analysts still have hope for AMD's long-term growth drivers.
AMD management isn't relying on cryptocurrency to boost sales. Instead, it is developing new high-end products in the PC (personal computer) and server markets to gain some share from Intel (INTC). It is also looking to gain some share from NVIDIA (NVDA) in the high-end graphics card market.
Article continues below advertisement
AMD's small size is its advantage
AMD is less than one tenth the size of NVIDIA and Intel. AMD has a market capitalization of $12 billion, whereas Intel and NVIDIA have market capitalizations of $170 billion and $100 billion, respectively. AMD's small size is its advantage. If the company succeeds in securing even a small percentage of the graphics, PC, and server market share, it would make a remarkable difference to its earnings.
Ryzen
AMD has already launched its Ryzen 7 and 5 series, providing consumers an alternative to Intel's Core processors. Third party reviews have shown that AMD's Ryzen performs better than Intel's Core in multithreaded tasks such as content creation and video encoding. However, Ryzen falls behind Core in single-threaded tasks such as gaming.
In the last one month, AMD launched its low-end Ryzen 3 processor and the very-high-end Ryzen Threadripper. It is important to note that these are just the desktop variants, and the laptop variants for all these processors are due to launch in fiscal 2H17. The laptop and notebook segment is a growing subsegment of the PC market and the segment from where Intel derives most of its PC growth.
If AMD manages to secure even 5% to 10% of the high-end PC market, its computing earnings would rise significantly.
Article continues below advertisement
EPYC
AMD has also entered the high-end server market with its EPYC processor. It has already secured orders from Hewlett Packard Enterprise (HPE), Dell, Microsoft (MSFT), and Baidu (BIDU), which shows that customers are looking for an alternative to Intel in the server market, and AMD offers them a cost-effective alternative through EPYC.
The data center market churns out $16 billion per year in revenue. If AMD succeeds in securing a 5% to 10% stake in this market, its annual revenue would increase by over $1 billion.
Gaming
Another growth catalyst is the important technology trends AMD is targeting. PricewaterhouseCoopers expects spending in gaming to grow at a CAGR (compound annual growth rate) of 6.3% to ~$28.5 billion by 2021. AMD is tapping the gaming market with its new high-end Vega GPU, which brings the performance of NVIDIA's Geforce GTX 1080 to a more affordable price.
AMD's growth depends on the success of the above high-end products. In the next few parts of the series, we will look at each of the new products and their potential to succeed.