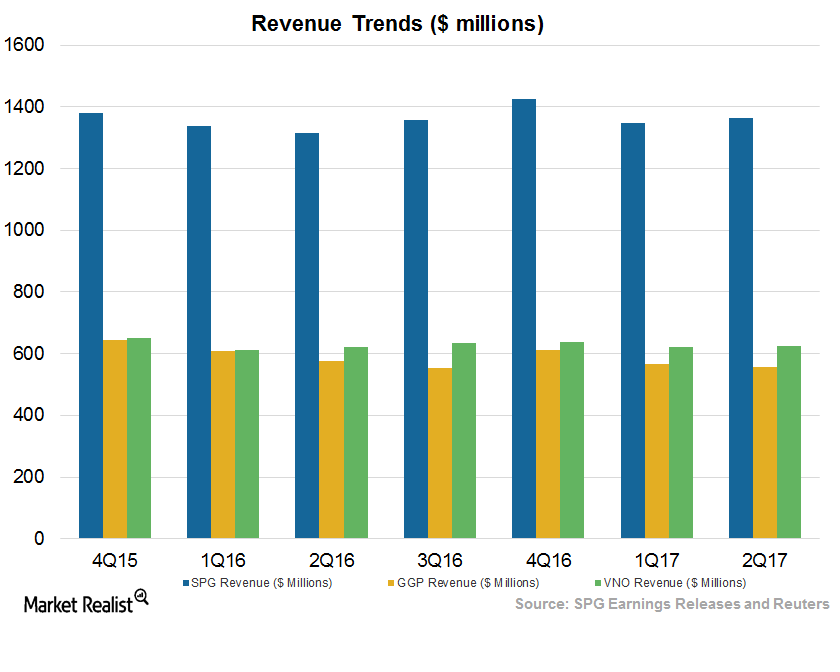 The Top Lines for REITs Simon Property, GGP, and Vornado
Results compared to analyst estimates
When we consider the top line performances of commercial REITs, we find that they performed decently during the second quarter. Mall owners have repositioned their properties in Class A cities with high incomes and job growth. They've also redeveloped their vacant spaces for non-retail uses such as restaurants and entertainment zones in an attempt to attract traffic.
Simon Property Group (SPG) reported higher-than-expected rental revenue of $1.4 billion, beating Wall Street's estimate of $1.3 billion by 4.5%. GGP's (GGP) top-line result of $555.8 million also surpassed estimates by 2.4%. However, Vornado Realty Trust's (VNO) top line of $626.0 million marginally missed analysts' estimates by 1.1% during the quarter.
Article continues below advertisement
Did REITs post higher revenues than last year?
In addition to beating the estimates, our REITs also reported higher year-over-year revenue during the quarter on the back of higher occupancy and rent growth. While SPG's revenue came in higher than the prior year's results by 6.9%, Vornado's revenue soared almost 20.0% to $626.0 million from the previous year's result. GGP, on the other hand, reported lower revenue of 3.3% compared to the year-ago period.
Factors that influenced revenue performance in 2Q17
Higher leasing activities and decent occupancies at the properties fueled revenue growth for these REITs.
Occupancy at SPG's malls stood at 95.2% during the quarter. Total revenue growth was backed by a 3.3% rise in base minimum rent and a 12.9% increase in leasing spreads.
GGP's fall in revenue was mainly due to a 25.0% fall in overage rent. However, a 3.9% fall in minimum rent and a 4.6% fall in tenant recoveries also contributed to lower revenue results during the quarter.
Vornado disposed of all its Washington businesses to transform into an exclusively New York–based company during the quarter. The New York region contributed 3.2% to revenue growth. However, it was partially offset by an 8.2% fall in revenue for properties located in Washington.
The three REITs and Prologis (PLD) together make up 14.0% of the Vanguard REIT ETF (VNQ). The ETF has an average traded volume of 3.6 billion shares, which could rise given the decent results posted by REITs in 2Q17.
In the next part of this series, we'll see how our three REITs managed their expenses during the quarter.