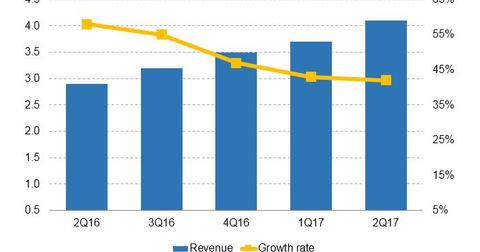 The Rise of Amazon Cloud Carries Some Risk
By Neha Gupta

Updated
AWS backstops for Amazon
Because Amazon (AMZN) reinvests nearly every dollar it generates in its core e-commerce business, it looks to Amazon Web Services (or AWS), its cloud computing business, for profits.
AWS accounted for more than 100% of the profits that Amazon reported in 2Q17 because Amazon's e-commerce operation mostly produced losses. AWS's operating profit rose to $916 million from $718 million in 2Q16 and led Amazon to post an overall operating profit of $628 million.
Article continues below advertisement
Competitors rising against AWS
However, the rise of AWS as Amazon's profit machine is raising a sense of vulnerability in Amazon's business. AWS is coming under increasing competitive pressure because Microsoft (MSFT), Alphabet's (GOOGL) Google, Oracle (ORCL), and IBM (IBM) have stepped up their campaigns for cloud computing market share.
Escalating competition in the cloud computing sector has taken a toll on AWS's growth rate. Although AWS's sales rose 42% to $4.1 billion in 2Q17, its growth rate decelerated from 58% posted in 2Q16. The chart above shows the annual growth trend of AWS sales over the last five quarters.
AWS has a lot to lose
While the global cloud computing market continues to grow and the sector may accommodate several winners, the size of AWS shows it has the most to lose if its competitors catch up. According to Synergy Research Group, AWS is the world's largest public cloud vendor, claiming more than a third of the market.
Considering that AWS keeps Amazon profitable, slowing growth in this business could impact Amazon's bottom line.