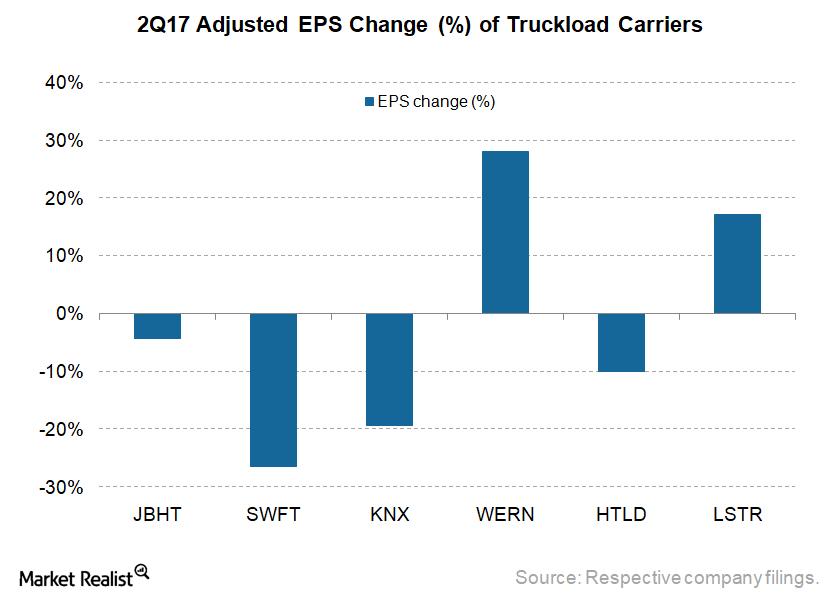 The Impact of the 2Q17 Adjusted Earnings of US Truckload Carriers
By Samuel Prince

Aug. 28 2017, Updated 10:36 a.m. ET
2Q17 earnings of major truckload carriers
Previously, we assessed the change in fuel expenses and the impact on truckload carriers. In this part, we'll examine the year-over-year change in the 2Q17 adjusted earnings of these carriers. 
Note that adjusted earnings nullify the impact of non-recurring expenses or gains, making it a better measure when compared with the reported earnings per share.
Article continues below advertisement
Behind truckload carriers' adjusted earnings
Among the discussed truckload carriers, Werner Enterprises (WERN) and Landstar System (LSTR) were the only carriers to report adjusted EPS (earnings per share) growth. On the other hand, J.B. Hunt Transport (JBHT), Swift Transportation (SWFT), Knight Transportation (KNX), and Heartland Express (HTLD) posted a fall in adjusted EPS.
WERN's 2Q17 adjusted EPS rose 28% compared with 2Q16. This trend was due to lower supplies and maintenance expenses, reduced insurance and claims, and lower rent and purchase transportation (IYJ) expenses. Despite a slight rise in diluted shares outstanding, the company's adjusted earnings were $0.32 in 2Q17 compared with $0.25 per share in 2Q16.
In 2Q17, Landstar's adjusted earnings were $0.89 per share, up 17.1% from $0.76 per share in 2Q16. Lower insurance and claims expenses, reduced interest expenses, and lower diluted outstanding shares pushed the adjusted earnings upward in 2Q17.
Swift Transportation's adjusted earnings fell 26.5% in 2Q17 to $0.25 per share from $0.34 per share in 2Q16. Higher insurance and claims expenses in 2Q17, as well as the lower gain on the disposal of property, negatively impacted the 2Q17 adjusted earnings. These adjusted earnings were also unfavorably impacted by merger transaction costs and lower interest income in 2Q17.
Knight Transportation's adjusted earnings per share were $0.25 in 2Q17, down 20% from $0.31 per share in 2Q16. Higher purchased transportation in the reported quarter, merger-related costs, and far lower other income in 2Q17 led the decline in KNX's adjusted EPS 
Heartland's adjusted earnings declined 10% to $0.18 per share in 2Q17 from $0.20 per share in 2Q16.
In the next article, we'll discuss the debt levels of these carriers.