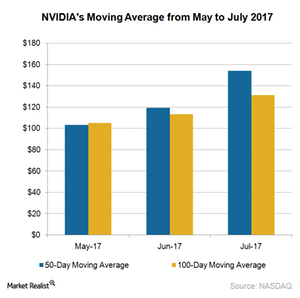 The Impact of Cryptocurrency Prices on NVIDIA and AMD Stock
By Puja Tayal

Aug. 9 2017, Updated 10:39 a.m. ET
Cryptocurrency prices slump
In the previous part of this series, we saw that mining GPUs (graphics processing units) are not a long-term growth driver for NVIDIA (NVDA) and Advanced Micro Devices (AMD) due to the volatile nature of cryptocurrency.
The cryptocurrency market has started showing signs of a slump. Ethereum prices fell from $400 in mid-June to ~$200 in early August 2017. Ethereum's transaction activity also cooled from 316,788 on June 26, 2017, to 225,435 on July 27, 2017. Bitcoin prices have declined since mid-June, but not as dramatically as Ethereum prices.
Article continues below advertisement
On the other hand, the second version of bitcoin called Bitcoin Cash went live on August 1, 2017, which heated up the cryptocurrency market. Bitcoin Cash would process transactions faster than the original bitcoin, but not everyone would be able to participate in it as not all exchanges honor the new platform. 
It's difficult to predict how the market could adjust to this new version. However, AMD and NVIDIA could benefit from incremental GPU sales if the market reacts positively.
NVIDIA's stock price momentum
NVIDIA stock has been reacting to the cryptocurrency market since Bitcoin Cash went live. The stock tried to break its major resistance at $168.50 but could only reach $169.93—its new 52-week high—before pulling back to its 20-day moving average. Wall Street estimated that the stock could reach $175.00–$180.00, or even $185.00–$190.00 if it breaks the resistance level of $169.93.
Wall Street analysts have recommended that traders buy the stock if it dips toward its 20-day MA (moving average) of $160.68 or its 50-day MA of $153.27. However, analysts recommended that traders avoid trading in the stock if it dips below its 50-day MA.
NVIDIA's stock price did not fall as much as AMD's stock price.
AMD's strategy to curb miners from absorbing Vega GPU stock in the market
AMD realized that the demand from miners would create short-term sales, but it would hamper its long-term growth as miners are taking away GPUs away from its long-term consumer base of gamers. The company is looking to address this risk by making its new Vega GPUs expensive for miners but cost-effective for gamers.
AMD's Radeon Technologies Group has created Radeon Packs under which a gamer can obtain a discount of up to $400 if it buys Vega GPU along with complementary hardware such as high-end gaming monitors. If a consumer only buys the Vega GPU, the price of the card increases $100. There is also an incentive for retailers, as Radeon Packs would encourage sales of higher-margin items like monitors.
NVIDIA is relying on artificial intelligence, gaming, automotive, and professional visualization for long-term growth, and it has launched its new technology in this space. We will look into this in the next article.