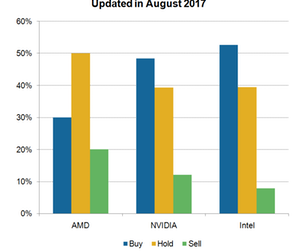 Technology Shift Encourages Analysts to Bet on NVIDIA's Long-Term Growth
By Puja Tayal

Updated
NVIDIA—Key beneficiary of the fourth technology shift
In the previous part of the series, we saw that NVIDIA (NVDA) is currently at the start of the AI (artificial intelligence) revolution, which has more than tripled its data center revenues in the last 12 months.
Jefferies analyst Mark Lipacis stated that the technology industry (QQQ) is currently witnessing the fourth shift in computing toward parallel processing and IoT (Internet of things). He said, "We think those companies that have architected their hardware and software platforms from the ground up for parallel processing are best positioned to benefit."
Article continues below advertisement
The key beneficiary of this shift is NVIDIA, which is followed by Advanced Micro Devices (AMD), Cavium, and Xilinx (XLNX). However, Intel (INTC) would be the biggest loser as it dominates the current data center market, and parallel processing is driving down memory costs and making data storage free.
Canaccord Genuity
Canaccord Genuity analyst Matthew Ramsay revised his price target for NVIDIA from $155 to $180 as he concluded that the company has the capability to survive competition from Google's (GOOG) custom TPUs (tensor processing unit). 
In an investor conference, Ramsay noted that investors were concerned that Google's second-generation TPU, and Fujitsu's new AI (artificial intelligence) processor would give tough competition to NVIDIA's GPUs and render their data center earnings estimates factored in NVIDIA's stock price too high.
Article continues below advertisement
Ramsay concluded that NVIDIA's software development toolkit such as CUDA and cuDNN sets it apart from the competition and makes its GPUs more relevant for customers. Increasing adoption of accelerators and growing competition would gradually reduce NVIDIA's ASP (average selling price), but it would continue to be the leader in the AI space. He expects NVIDIA's Data Center revenues to triple by 2020.
Ramsay stated that investors are not confident that Intel would be able to accelerate its data center growth with its new Purley platform and amid increasing competition from AMD, Google, and Qualcomm. Investors have mixed views about its future growth prospects.
Needham & Co.
Needham & Co. analyst Rajvindra Gill revised his price target from $130 to $200 as he is bullish about NVIDIA's growth prospects in the data center and automotive markets. He is particularly bullish about the company's partnership with Toyota (TM). As part of the partnership, NVIDIA would deploy its Drive PX Xavier platform in Toyota's cars over the next few years.
According to Gill's estimates, the Toyota deal would add $1.0 billion–$1.7 billion to NVIDIA's revenues. This deal would also add $0.35–$0.65 to the chip supplier's EPS by 2019.
Lipacis stated that investors are waiting for NVIDIA stock to pull back as it is difficult for them to buy shares at the current price, which is near its 52-week high.