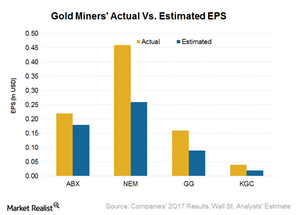 Stock Reactions: All Beats, No Misses for Senior Gold Miners in 2Q17
By Anuradha Garg

Updated
All beats, no misses
All the gold miners (RING) (GDX) we're covering in this series reported an earnings beat in their 2Q17 results. The intensity of the beat and the stock reaction after the beat, however, varied for the four senior gold miners.
Article continues below advertisement
NEM and KGC
Newmont Mining (NEM), which started the gold miners' 2Q17 earnings season on July 25, reported earnings per share (or EPS) of $0.46, soundly beating the consensus estimate of $0.26. The beat was due to higher-than-expected revenues. Its revenues of ~$1.9 billion also surpassed the analyst estimate by $107.0 million. 
NEM's stock reacted positively to the beat, rising 6.9% after the earnings announcement, outperforming GDX's gain of 1.0%. Please read Newmont Mining Digs in after a Strong 2Q17 for more information.
Kinross Gold (KGC), which was the last to report its earnings among the senior peers on August 2, 2017, recorded a strong earnings beat. It reported EPS of $0.04, surpassing the analyst estimate of $0.02. Its revenues of $869.0 million were also 5% higher than the consensus estimate. Kinross's stock reacted positively to the beat by rising 4.7% on August 3 compared to a fall of 0.30% in GDX.
Please read Can Kinross Gold's 2Q17 Results Sustain Its Price Momentum? to find out more about its earnings and 2017 outlook.
Article continues below advertisement
ABX and GG: Muted stock price reaction
Barrick Gold (ABX) announced its results on July 26, 2017, after the market closed. Its EPS of $0.22 was a beat on the consensus earnings estimate of $0.18. With revenues totaling $2.2 billion, it also beat the top-line estimates by 5%. While its stock rose 1.8% on July 27, the outperformance was not as significant as that for Newmont. You can read Barrick Gold's 2Q17 Earnings Beat: What You Need to Know to see the results and outlook in more detail.
Reporting its results on the same day as Barrick Gold, Goldcorp (GG) also recorded an earnings beat. Its EPS of $0.16 was $0.07 higher than the analysts' consensus estimate. Its revenues totaled $822 million, which missed the top-line estimates by $50 million. Despite an earnings beat, GG's stock fell 6% on July 27, underperforming GDX.
Please read Goldcorp Stock Fell despite Positive 2Q17 Results for more details.