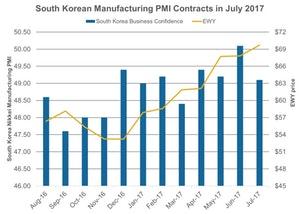 South Korean Exports' Impact on Manufacturing Activity
By Mary Sadler

Aug. 9 2017, Updated 9:06 a.m. ET
Manufacturing activity in July 2017
South Korean (EWY) manufacturing activity dropped in the July 2017, with a sharp reduction in output. The Nikkei South Korea (EEM) manufacturing PMI decreased to 49.1 from 50.1 in June, according to an IHS Markit report. Manufacturing activity in South Korea returned to contraction, with reduced orders for its key export markets, specifically in the auto sector (CARZ).
Article continues below advertisement
Manufacturing activity in South Korea
Production dropped at the fastest pace in two years in South Korea (ASEA). Reduced new orders, specifically from the auto sector, resulted in a sharp decline in output. Weaker demand from China (FXI) and Japan (EWJ) impacted overall work orders in July 2017. New export orders reached six months of decline, and overall new orders were unchanged from the previous month. Year-over-year, exports to China and Japan increased by 6.6% and 5.1%, respectively, in July 2017.
Purchasing activity and price pressures
Reduction in production and new orders resulted in a modest decline in purchasing activity in July 2017. Input costs fell marginally, mainly due to weaker market demand and lower import cost. Output costs saw a significant decline due to strong competition and reduced input costs, which were passed to customers. Employment in the manufacturing sector also increased in July 2017, with an improved business outlook in regards to expansion plans and positive demand projections.
Expectations
South Korean (IEMG) manufacturers continued to remain optimistic about future output in July 2017. Companies expect an improvement in export demand over the next 12 months, thereby helping the manufacturing activity in 2017. However, optimism was at its lowest since April, easing from June's 14-month high.