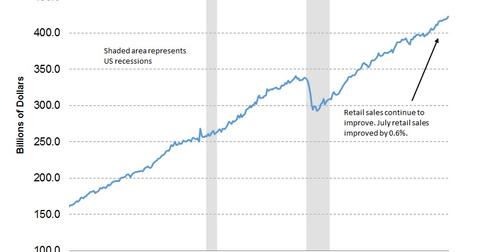 Solid Retail Sales Growth: What It Means for the Economy
By Ricky Cove

Updated
Retail sales in July
The retail sales report for July was released by the United States Census Bureau on August 15, 2017. According to the report, US retail sales adjusted for seasonality, but not for price changes, were $478.9 billion. Retail sales rose 0.6% from the previous month and were 4.2% above the same month in 2016. The reading is better than the market's expectation, which was for growth of 0.4%.
Article continues below advertisement
Consumer spending continues to improve
Retail sales data give investors an idea of consumer spending patterns. At times, the monthly data can be volatile. It's recommended that investors track these changes on a quarterly or annual basis. The recent report pegs the quarterly and annual inflation growth rate at 3.2% and 3.6%, respectively, which indicates that investors don't need to worry about the growth in retail sales.
Inflation and real retail sales
The CPI report considers nine different categories when calculating consumer price inflation. The largest weight is given to the housing (XHB) sector, followed by transportation and food and beverages. The year-over-year rate of change in July for housing (ITB) was 2.8%, medical care (XLV) was 2.6%, and food and beverages was 1.1%. The education and communication sector saw a continuous decline—the July change was -2.5%.
Real retail sales are calculated by adjusting core retail sales for inflation (TIP). Real retail (XRT) sales for July indicated a 0.5% rise from June. Retail sales have been rising but remain below the longer-term average. The US economy's recovery has been slowing, which will likely impact the Fed's next move. The markets expect the Fed to announce its balance sheet trimming plan in the September meeting. The markets expect the next hike to be in 2018. In the next part of this series, we'll analyze mixed messages from New York Fed President William Dudley's recent speech about US growth and inflation.