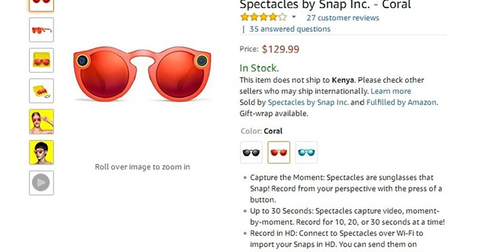 Snap: A Survey of Its Spectacles Distribution Strategy
By Neha Gupta

Updated
Spectacles available on Amazon
Although little is known about the demand for Snap's (SNAP) Spectacles smart glasses, a study of the product's distribution can provide vital clues about its demand, competitive strength, and potential impact on profitability.
Snap is set to report its 2Q17 results on August 10, at a time when it has tried to expand the distribution channel of Spectacles—its first hardware product. Snap initially sold Spectacles through pop-up vending machines in specific locations. It later opened up a channel for people to order the device online through its website. In a more recent move, Snap has made Spectacles available on Amazon's (AMZN) retail site, expanding the product's availability.
Article continues below advertisement
Spectacles price remains steady
A lot can be learned from Snap's method of distributing Spectacles. First, the decision to sell Spectacles via third-party distributors like Amazon may be viewed as implying growing demand for the device that Snap is trying to make it available in more locations.
Second, the fact that Snap has maintained the price for Spectacles since the device launched is revealing. Spectacles retail for $130—the same price whether a customer buys it from Snap's outlets or Amazon.com.
Steady price has profit advantage
Spectacles' steady price could imply that there is enough demand for the device that Snap isn't under pressure to attract customers with discounts. A steady price means that Snap can maintain its profit margin for the product.
Through Spectacles, Snap hopes to rely less on the online advertising industry, where it faces stiff competition from Facebook (FB), Twitter (TWTR), and Alphabet's (GOOGL) Google.