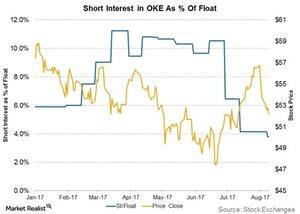 Short Interest in ONEOK Has Fallen 9% since July 14
By Rekha Khandelwal, CFA

Dec. 4 2020, Updated 10:53 a.m. ET
Short interest
Short interest is the total shares of a particular stock that have been shorted but haven't yet been closed out. Short interest as a percentage of float in ONEOK (OKE) stock is 3.8%. This is lower than mid-July's reading of 4.1%.
According to data released on August 9, 2017, the total number of OKE shares shorted was ~14.3 million on July 31, 2017, 9% lower compared than ~15.6 million shares on July 14, 2017. The short interest in ONEOK stock is on the lower side compared to its average of ~4.6% over the last five years.
The chart above shows short interest in OKE as a percentage of its float along with OKE's stock price. As the graph shows, short interest as a percentage of float in OKE has been falling since the beginning of July. Short interest in OKE currently is at its lowest level since the start of 2017.
Low short interest in ONEOK stock could indicate that fewer investors expect its price to fall further in the near future. It should be noted, however, that investors could be incorrect in their expectations.
Article continues below advertisement
Short interest ratio
The short interest ratio indicates the number of days it would take for the short sellers to cover all their positions. The ratio can be calculated by dividing short interest in a stock with its average trading volumes.
ONEOK's short interest equals ~14.3 million shares, and the average daily trading volume is ~6.3 million shares. So, ONEOK's short interest ratio is ~2.3x. This indicates that it would take 2.3 days to cover all open short positions in OKE stock.
In the next article, let's take a look at the activities of institutional investors in ONEOK stock.