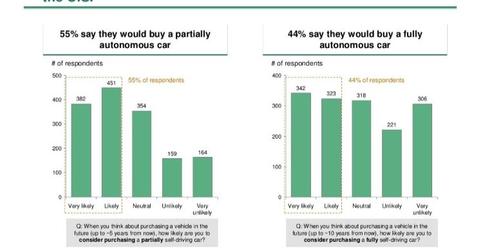 Self-Driving Cars: What Are Alphabet's Competitors Doing?
By Neha Gupta

Updated
Reducing road carnage
Waymo, Alphabet's (GOOGL) unit in charge of developing autonomous driving systems, has been granted a patent that could help reduce road crash deaths. The patent describes rapid automated reactions in a self-driving vehicle just before it hits a pedestrian, another vehicle, or other objects. The idea is to reduce the crash impact to reduce the damage or injury to the objects or people hit by a driverless car.
Reducing road carnage is one of the major pitches of autonomous driving. Waymo's patent tries to address this issue. If Waymo's autonomous driving safety idea works, it could gain an edge for control of the autonomous driving industry, which is rapidly becoming crowded.
Article continues below advertisement
Waymo's competitors getting busy
In addition to Uber and Tesla (TSLA), Apple (AAPL) and Intel (INTC) are other technology companies that have joined the autonomous driving race. This implies that bitter competition is brewing in the self-driving market, which is forecast to be worth $77 billion by 2025, according to Boston Consulting Group (or BCG).
After acquiring Mobileye, Intel is broadening its autonomous driving push. The company recently disclosed plans to build 100 cars to test its autonomous driving technology. Intel is also working in partnership with BMW and several other automakers to bring driverless cars to market in the next few years.
For Intel, the prize is becoming the go-to provider of chips that power driverless vehicles, a market that is also eyed by its rivals Qualcomm (QCOM) and NVIDIA (NVDA).
Automakers building their technology
Tesla (TSLA) is also expanding its autonomous driving program. According to Reuters, the company has discussed building electric trucks capable of driving themselves. Mazda, Ford (F), and General Motors (GM) are also developing their autonomous driving systems.
Considering that Waymo seeks to license its autonomous driving technology to automakers and fleet operators, the idea of automakers developing their self-driving technology doesn't appear to bode well for its future.