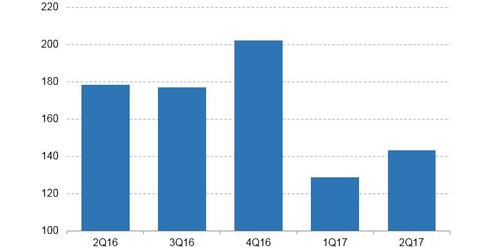 Scrutinizing Twitter's R&D Allocation
By Neha Gupta

Updated
Leaning on R&D to improve competitiveness
Twitter (TWTR) is continually looking for new products and technologies to help it grow. Some products and technologies it seeks are aimed at attracting more users, thus driving revenue growth. In other cases, the company is leveraging technologies such as artificial intelligence to tackle abusive practices on its social platform to improve subscriber and advertiser retention.
As such, Twitter looks to its R&D (research and development) department to develop new products and solutions to help it stay competitive.
Article continues below advertisement
R&D consumes 25% of revenues
Twitter (TWTR) spent $143.2 million on R&D in 2Q17, up from $128.7 million in 1Q17 but down from $178.5 million in 2Q16. The company's R&D allocation for 2Q17 was 25% of its revenues and 23.4% of its total operating expenses. Twitter's revenues decreased 4.6% year-over-year in the latest quarter.
In 2Q16, Twitter's R&D spending was 29.7% of revenues and 25.9% of operating expenses. Its revenues rose 19.8% in that quarter.
The chart above shows Twitter's R&D budget trend over the last five quarters.
Content costs driving expenses
Twitter noted that its total expenses declined 11% to $612 million in 2Q17 due to lower R&D and marketing costs (QQQ). However, Twitter saw cost increases in its content acquisition spending, which drove up the cost of revenues. The company's traffic acquisition costs declined slightly. Alphabet's (GOOGL) Google reported an increase in traffic acquisition costs in 2Q17.
Twitter, Google, Facebook (FB), and Snap (SNAP) are investing in video content as they seek to take advantage of trends such as cord-cutting, which is boosting Internet video consumption and advertising.