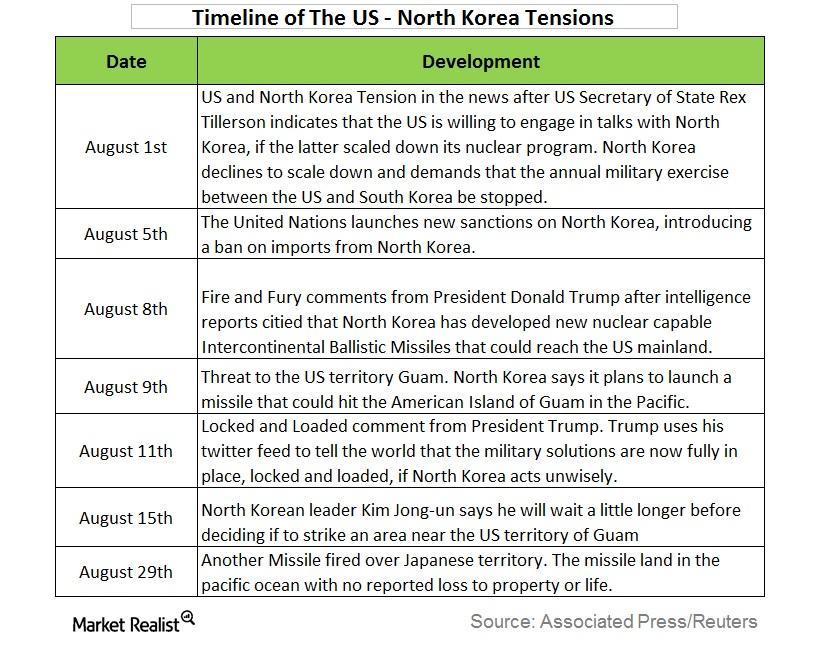 Risk Aversion Back in Focus as North Korea Fires another Missile
North Korean missile dents risk appetite
Expectations for a lower level of volatility in the last week of summer were shattered as North Korea fired another missile on Tuesday morning. Just as markets were pricing in lower levels of geopolitical risks, North Korea fired an intermediate-range ballistic missile that traveled over Japanese territory and landed in the Pacific Ocean. This isn't the first time a North Korean missile has flown over Japanese territory, but in the current climate of escalated tensions, there could be serious consequences in the days ahead.
Article continues below advertisement
Where it all began
Global markets have been rattled by increased friction between North Korea and the world, especially this month. As the table above shows, it all began with North Korea warning about the escalation of tensions if the annual joint military exercises between the United States and South Korea were conducted this year. Japanese Prime Minister Shinzo Abe and US President Donald Trump have agreed to call for an emergency United Nations Security Council meeting. With President Trump refraining from making any damaging statements this time, escalation of risk aversion was limited.
Market reaction to the missile launch
Risk aversion dominated global markets after the news of North Korea's missile test. Investors poured into safe havens like gold (GLD), the Japanese yen (FXY), the Swiss franc (FXF), and bonds (AGG). Asian equity markets (AAXJ) were down by an average of 1.5% on the day of the missile launch but have rebounded as of August 30.
In this series, we'll discuss the impact of these renewed geopolitical tensions on different asset classes like equities (SPY), bonds (BND), and currencies (UUP). We'll also discuss the reasons for the immediate bounce-back on the following day.