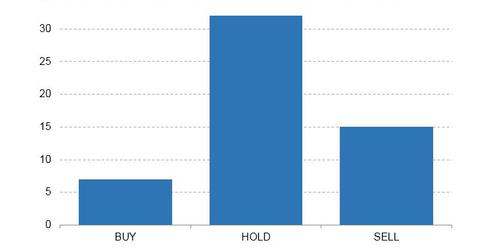 Reasons to Acquire Twitter Still Exist
By Neha Gupta

Aug. 24 2017, Published 5:14 p.m. ET
Twitter reports daily user growth
Speculations swirled last year that several companies were considering Twitter (TWTR) as a takeover target. Companies such as Walt Disney (DIS), Salesforce (CRM), and Alphabet (GOOGL) were mentioned in relation to the potential purchase of Twitter. A deal didn't materialize.
Even without a deal, the fact that these companies entertained the thought of acquiring Twitter was believed to be tied to Twitter's massive data trove. The company has more than 328 million monthly active users, and its daily user base has been expanding at double-digit rates in the last few quarters. Twitter noted that its daily users increased 12% in 2Q17 compared to 5% in 2Q16.
Article continues below advertisement
Acquiring Twitter for data
Companies like Alphabet, Disney, and Salesforce could tap into Twitter's data pool to accelerate their sales growth. Microsoft's (MSFT) $26 billion bet on LinkedIn was seen as driven more by the need for data than the immediate revenue boost that the business would bring. Microsoft has discussed leveraging LinkedIn's data to drive the sales of its enterprise software products.
Twitter's data assets
If the acquisition hunt is about data, Twitter remains a data treasure. Given Twitter's 328 million monthly users, expanding daily user base, and impact in breaking news online, Twitter could be a valuable resource for many companies in various industries.
Twitter's valuation has fallen steeply since its IPO (initial public offering) also made the company more affordable for a potential acquirer. Analyst Richard Greenfield of BTIG stated in a June 2017 interview with Business Insider that he would be shocked if Twitter wasn't acquired within two years.
As shown in the chart above, 32 of the 54 analysts who recently commented on Twitter have a "hold" rating on the stock.