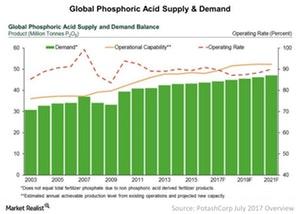 The Phosphate Capacity and Demand Landscape for 2017 and Beyond
By Adam Jones

Updated
Phosphate market environment
The market environment for phosphate fertilizers has remained subdued in 2017. Similar to nitrogen fertilizers, the phosphate fertilizer market has seen a supply buildup in recent years.
Article continues below advertisement
Phosphate capacity
As you can see in the chart above, capacity (the orange line) has always been higher than demand. Prior to 2017, operating rates have been higher than operational capabilities. However, operating rates were expected to be below operational capabilities starting in 2017. The overall global capacity for phosphoric acid in the above chart in 2017 is expected to be close to 43 million metric tons.
In its 2Q17 earnings call, Mosaic (MOS) stated that it believes that the phosphate market will see as much as 3.5 million metric tons in capacity additions coming from Saudi Arabia and Morocco. However, the company added that it does not see new capacity additions in the pipeline.
Demand
Demand for phosphate fertilizers remains firm. Mosaic expects the demand for phosphate fertilizers to grow 2%–2.5% per year for the next five-year period. Over the long term, the outlook for phosphate demand remains optimistic, and the excess capacity will likely be absorbed by growing demand, which is driven by population growth.
In the meantime, phosphate remains a weak spot for producers (MOO) like Mosaic, PotashCorp (POT), Agrium (AGU), and Israel Chemicals (ICL), and most of this weakness has come from falling prices.
Next, we'll discuss phosphate prices in greater detail.