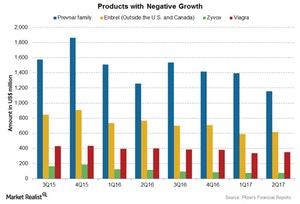 Pfizer's Declining-Revenue Products in 2Q17
By Mike Benson

Updated
Products with declining revenues
In the previous part of this series, we discussed the products that contribute to the growth of Pfizer's (PFE) revenues in 2Q17. Let's now take a look at the products that have impacted revenue growth in 2Q17.
The overall share of revenues for Essential Health products fell to 40.5% of total revenues for 2Q17 from 45.9% of total revenues for 2Q17. The fall was due to the loss of exclusivity for two key products, Celebrex and Zyvox.
Article continues below advertisement
Products with declining sales
We saw a 7% decrease in Prevnar family revenues compared to last year, following lower demand for Prevnar 13 in the United States in 2Q17. In 2Q17, the total contribution of the Prevnar family was $1.15 billion, compared to $1.29 billion in 2Q16.
Lipitor, a drug for reducing cholesterol and triglycerides in the blood, reported a decrease in revenues of ~3% at $445 million in 2Q17 compared to $461 million in 2Q16. Growth in international markets was offset by lower sales in US markets and a negative impact of foreign exchange.
Enbrel, an inflammation and immunology drug, reported revenues of $617 million in 2Q17 outside US and Canadian markets—a decrease of ~17% at constant exchange rates from $766 million in 2Q16.
Viagra sales fell 12% to $349 million in 2Q17, compared to $401 million in 2Q16, following the effect of patent expiry and pricing pressure.
EpiPen, one of the key products for Mylan (MYL), contains a drug manufactured by Pfizer. Pfizer reported a 3% decrease in EpiPen revenues at $90 million for 2Q17.
Zyvox, an antibiotic, reported a 32% decrease in its 2Q17 sales to $75 million, compared to $114 million in 2Q16—mainly due to lower sales following the loss of exclusivity since May 2015.
Inylta, a drug for the treatment of advanced renal cell carcinoma, reported a 17% decrease in its 2Q17 revenues to $88 million, compared to $108 million in 2Q16.
BeneFIX, a rare disease drug, reported a 15% fall in its revenues to $153 million in 2Q17, compared to $183 million in 2Q16.
BMP2 reported a 6% decline in its revenues to $57 million in 2Q17, compared to $61 million in 2Q16.
A few other drugs reported a decline in revenues in 2Q17, mainly due to competitive pressure and loss of exclusivity.
The Fidelity MSCI Healthcare Index ETF (FHLC) invests 5.6% of its total assets in Pfizer (PFE). FHLC also invests 1.8% of its portfolio in Biogen (BIIB), 2.3% in Allergan (AGN), and 3.0% in Celgene (CELG).