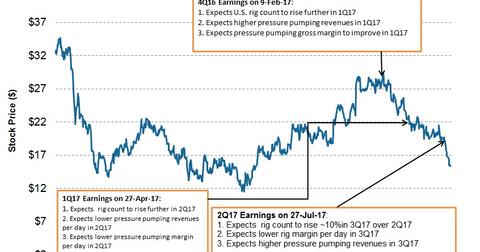 Patterson-UTI Energy: Management's Views after 2Q17
By Alex Chamberlin

Updated
What does management think?
Patterson-UTI Energy's (PTEN) management doesn't expect the US rig count to increase much from the current level in 2H17. In the 2Q17 earnings conference call, Mark Steven Siegel, Patterson-UTI Energy's chairman, said, "based on contracts we have already signed, we expect to see our rig count increase slightly over the next few months. Although the rate of increase in the second half is not likely to approach the rate of increase in the first half of 2017, we don't see an impending decline in drilling activity by our customers. Put simply, the technology advances in drilling have made it economical for E&Ps to continue to be active, even in a $45 per barrel to $50 per barrel oil market."
Article continues below advertisement
Rig count estimate and backlog size
Patterson-UTI Energy's drilling backlog was $535 million on June 30, 2017. The company's management expects ~15% of the drilling backlog to remain on June 30, 2018. A "backlog" is defined as the day rate under term drilling contracts multiplied by the number of days remaining on the contract. In 3Q17, management expects Patterson-UTI Energy to operate 94 rigs under term contracts—compared to 84 in 2Q17. The company also expects 60 rigs on average to operate under term contracts during the 12-month period ending June 30, 2018.
Rig strategies in 2017
For Patterson-UTI Energy to benefit from the current trend of a greater proportion of pad drilling and longer laterals in West Texas, it's focusing on APEX-XK rigs (super-spec category rigs).
There's a lower demand for the smaller 1,000 horsepower rigs.
Patterson-UTI Energy plans to upgrade approximately seven of its APEX 1000 rigs to the APEX-XK 1500 category.
For Patterson-UTI Energy, 106 of its 107 super-spec rigs are under contract.
In the next part, we'll discuss Patterson-UTI Energy's revenue and earnings.