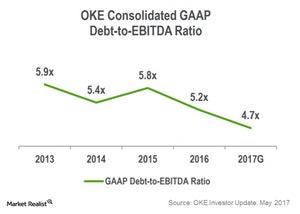 What Does ONEOK's Leverage Indicate?
Debt-to-EBITDA ratio
For 2016, ONEOK's (OKE) consolidated debt-to-EBITDA (earnings before interest, tax, depreciation, and amortization) ratio was 5.1x. The company expects the ratio to fall to 4.7x for 2017. ONEOK targets a debt-to-EBITDA ratio below 4x in the long term.
Debt-to-EBITDA ratios are usually used by credit rating agencies to decide a company's credit rating. A lower ratio is considered better.
Article continues below advertisement
Credit ratings
ONEOK has a "Baa3" rating from Moody's with a stable outlook. The rating agency expects ONEOK to sustain leverage below 5x and dividend coverage above 1.2x. S&P has assigned a "BBB" rating to ONEOK with a stable outlook.
Both of the ratings are based on ONEOK's simplified structure after the completion of ONEOK Partners' acquisition.
In the meantime, Moody's has put Plains All American Pipeline's (PAA) "Baa3" rating under review for a downgrade. To learn more, read Why PAA Is Facing Price Target Cuts, Downgrades.
To learn more about ONEOK's price performance relative to its peers and the stock's short-term indicators, read Analyzing ONEOK's Short-Term Indicators after Its 2Q17 Results.