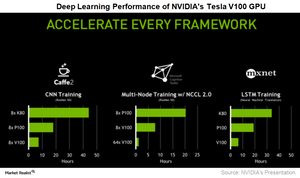 NVIDIA's Volta GPU Hits the Market Earlier than Expected
By Puja Tayal

Updated
NVIDIA's Volta and AMD's Vega
In the previous part of this series, we saw that the bullish trend in the cryptocurrency market is driving sales of Advanced Micro Devices' (AMD) and NVIDIA's (NVDA) low- and mid-range GPUs (graphics processing units). However, these short-terms gains did not deter the companies from investing in the high-end GPU market where the actual profit lies.
AMD launched its Radeon RX Vega GPU for game developers on July 30, 2017. NVIDIA shipped its first Volta GPU Tesla V100 for data center applications on August 1. Although the two GPU launches are not related to the same end market, they represent the next-generation GPU architectures of the two companies.
Article continues below advertisement
Volta for data center
Tesla V100 GPU is NVIDIA's first GPU built on the Volta architecture and is designed for deep learning systems, autonomous vehicle platforms, and big data analytics. The DGX-1 server system featuring eight V100 GPUs is priced at $149,000, which equates to $18,625 per GPU. 
The company claims that V100 is 12x faster than the Pascal-based P100 in processing matrix multiplication, thereby reducing the time duration for AI (artificial intelligence) training from 18.0 hours to 7.4 hours.
NVIDIA announced the initial Tesla P100-based DGX-1 supercomputer in April 2016 and shipped it in late September 2016. Looking at this launch schedule, the company shipped Volta V100 GPUs two months earlier than the Tesla P100 GPUs, indicating its efforts to speed up the manufacturing of its GPU.
At the Computer Vision and Pattern Recognition conference, the company gave away 15 Volta-based Tesla V100 GPUs to top researchers, strengthening its ties with researchers who use NVIDIA's GPUs to build AI technology.
NVIDIA would supply its V100 GPUs to China's (FXI) search engine Baidu (BIDU) for training tasks.
Volta for gaming
In 2016, NVIDIA announced its Pascal architecture in early April and started shipping Pascal-based gaming GPUs by late May. Many analysts noted that the company may follow a similar schedule and ship its Volta gaming GPUs by late September 2017. Despite these rumors, some analysts believe that the consumer variant of Volta GPU is more likely to hit the market in 1H18.
Even with a rumored September 2017 launch, NVIDIA's Volta gaming GPU would be late compared to AMD's Vega gaming GPU, which would be available on the market by August 14, 2017. 
However, AMD's Vega does not pose a threat to NVIDIA, as the former would compete with the latter's existing Pascal-based GPUs GTX 1080 and 1070. We'll look into this in the next part.