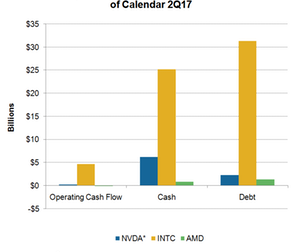 How NVIDIA's Balance Sheet Compares to Its Peers
By Puja Tayal

Updated
NVIDIA's balance sheet
In the earlier part of the series, we saw that NVIDIA (NVDA) is seeing strong growth in its four segments of gaming, professional visualization, automotive, and data center. In all four segments, its products generate higher margin, which is driving the overall company's profit margins although it is increasing its operating expenses. This, in turn, is increasing its cash flows.
Article continues below advertisement
Cash flow
NVIDIA's operating cash flows fell 8.7% YoY (year-over-year) to $282 million in fiscal 1Q18 as its accounts receivable increased significantly. The company's cash flows could increase above $300 million in fiscal 2Q18 as it improves its profit margins. The company would spend ~$55 million on capital expenditures and around $75 million–$80 million on dividend payments.
Inventory
NVIDIA's inventory could fall in fiscal 2Q18 as the market faced a GPU (graphics processing unit) shortage due to increased demand from cryptocurrency miners. Advanced Micro Devices' (AMD) inventory fell $6 million to $833 million in fiscal 2Q17.
Article continues below advertisement
Cash and debt
In fiscal 1Q18, NVIDIA's cash reserves stood at $6.2 billion. Its long-term debt stood at $2.0 billion, resulting in a net cash position of $4.2 billion. The company intends to pay off the debt on maturity.
On the other hand, Intel (INTC) increased its debt by $7 billion from ~$24.0 billion–$31.0 billion as it prepares to acquire Mobileye (MBLY) for $15.3 billion. It has up to $25.0 billion in cash reserves and long-term investments. Adding all this up, it has a net debt position of $6 billion.
Despite such high leverage, the company has a good credit score and decent financial flexibility as its high quarterly cash flows of up to $4.7 billion are more than enough to bear the interest expense of the huge debt.
However, this is not the case with AMD, which has net debt of $526 million. Although the net debt position is low compared to others, it is very high relative to its negative cash flow. The company's negative cash flow indicates that it does not have sufficient cash flow from operations to service its debt. Hence, it must use its cash reserves to pay the interest.
NVIDIA's high cash flows and net cash position makes its balance sheet stronger than that of AMD and Intel. NVIDIA is well-placed to take up any long-term investments while maintaining its high-profit margins.
Next, we will compare AMD and NVIDIA.