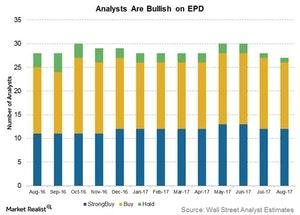 New Projects and Industry Recovery Should Drive EPD's Growth
Analysts' recommendations
Of the analysts surveyed by Reuters, 96% rated Enterprise Products Partners (EPD) as a "buy" and 4% rated the company as a "hold." The median target price for Enterprise Products Partners is $33. Currently, the company's units are trading near $26.84. If Enterprise Products attains its target price within a year, it would imply 23% upside for investors.
Article continues below advertisement
Outlook
"Looking forward, we believe the increase in rig counts and drilled, uncompleted wells will result in higher levels of production flowing into our system later in 2017," said Jim Teague, CEO of Enterprise Products Partners' general partner.
Strong growth in ethane demand is expected to benefit Enterprise Products Partners. The company started operations on a new ethylene cracker in 1H17. Three more crackers are expected to start operations by the end of 2017. Enterprise Products Partners also expects to benefit from increased global LPG (liquefied petroleum gas) demand.
The company expects to start operations on its propane dehydrogenation facility in September 2017. Its Midland-to-ECHO Pipeline is expected to start operations by 4Q17.
Once operational, all of these projects should contribute to Enterprise Products Partners' cash flows. For an in-depth analysis of the company's operations, read Enterprise Products Partners Continues to Attract Investors.