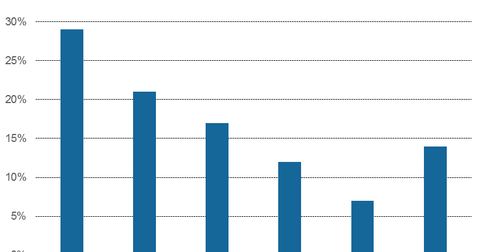 NetApp Expands Its Market Share in the All-Flash Array Segment
By Adam Rogers

Updated
NetApp has a 21% share in the all-flash array market
NetApp's (NTAP) share in the all-flash array (or AFA) market rose to 21% at the end of 1Q17 from 16% in 1Q16. In 1Q17, worldwide AFA sales rose 48% YoY (year-over-year) to $1.3 billion, according to market research firm Dell'Oro Group. AFA is the only vertical in the external storage market that is currently growing.
IDC stated that enterprise storage systems sales fell almost 7% YoY in 4Q16. In fact, the revenues for the external storage market has declined for the last two years. Dell'Oro Group expects all-flash revenues to rise 40% YoY to $7 billion, while hybrid and disk storage systems sales are estimated to fall 14% YoY in 2017.
Article continues below advertisement
Dell–EMC leads the AFA market with a share of 29%. Hewlett Packard Enterprises' (HPE) acquisition of Nimble Storage has taken it to the third place with 17%. HPE is followed by Pure Storage (PSTG) and IBM (IBM) with market shares of 12% and 7%, respectively. The top five AFA companies account for over 85% of the total market.
Why AFA sales are expected to rise in the future
In 2007, 1 gigabyte (or GB) of flash storage cost $8.00, which declined to $0.71 per GB in 2012 and $0.30 per GB in 2017. Further, demand for AFA is expected to rise with expertise in manufacturing in 3D NAND (negative AND) chips. According to Jim Handy from Objective Analysis, there should be a major "manufacturing breakthrough" in 2018, enabling AFA companies to develop high-capacity 3D NAND chips at a lower cost.
IDC has forecast AFA costs to fall at a CAGR[1. compound annual growth rate] of 26% between 2017 and 2020. Gartner expects AFA revenues to rise to $9.7 billion by 2020. If NetApp can maintain its market share of 21% in this vertical, it would mean annual revenues exceeding ~$2.0 billion in this segment for NetApp.