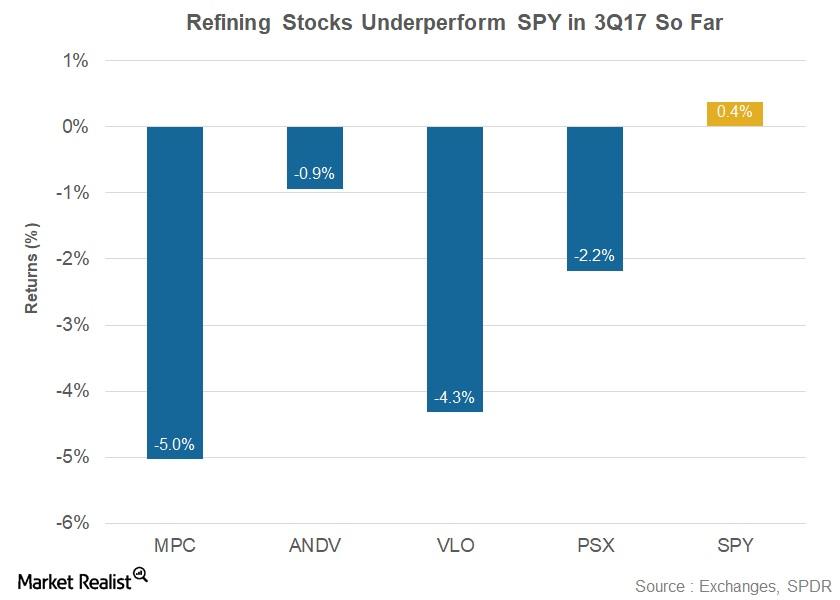 MPC, ANDV, VLO, PSX: Why Refining Stocks Are Underperforming SPY
By Maitali Ramkumar

Dec. 4 2020, Updated 10:51 a.m. ET
Refining stocks' performance
Since July 3, 2017, Marathon Petroleum (MPC) has fallen 5.0%, more than peers Andeavor (ANDV), Valero Energy (VLO), and Phillips 66 (PSX). ANDV, VLO, and PSX have fallen 0.9%, 4.3%, and 2.2%, respectively.
However, the SPDR S&P 500 ETF (SPY), the broader market indicator, has risen 0.4%, outperforming refining stocks. Let's look at what led to their fall.
Article continues below advertisement
Refining stocks fall in 3Q17
Various factors, including regional cracks, spreads, and refined product inventory levels, affect downstream stocks. Refining stocks posted mixed performance in 2Q17. While VLO and PSX surpassed earnings estimates, MPC missed them. ANDV posted a fall of ~91% in its operating refining earnings.
ANDV, MPC, and VLO post their refining margin indicators periodically, and saw them rise quarter-over-quarter in 3Q17. Andeavor's consolidated refining index has increased from $14.70 per barrel in 2Q17 to $15.80 per barrel in 3Q17. However, RIN (renewable identification number) costs are expected to rise in 3Q17, which we'll discuss later in this series.
Also, the EIA (U.S. Energy Information Administration) reported a fall in gasoline and distillate inventories in 3Q17. Between the week ended June 30 and the week ended August 11, 2017, inventories fell 2.6% and 1.4%, respectively,
Therefore, in 3Q17, refining stocks' fall has likely been due to rising RIN costs and mixed 2Q17 performance. This fall was partly offset by higher refining margin indicators and lower inventory levels.
Series outline
In this series, we'll perform a cross-sectional analysis of refining stocks. We'll examine their moving averages and eight-day price forecasts based on implied volatility. We'll look at analyst ratings, expected dividends, and forward valuation. Finally, we'll compare their leverage, liquidity, capex, and refining margins. Continue to the next part for a look at how refining stocks' 50-day and 200-day moving averages have changed in 3Q17.