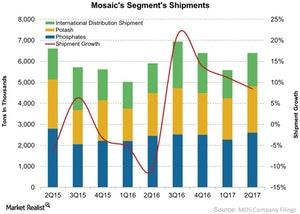 How Did Mosaic's Shipments Trend in 2Q17?
Shipments
In 2Q17, Mosaic (MOS) delivered positive shipment growth in each of its segments. The International Distribution segment experienced double-digit year-over-year growth, while the Phosphate segment's shipments saw mid-single-digit growth during the quarter. Overall, Mosaic's shipments rose 8% year-over-year. Let's look at the shipment performances of each of Mosaic's segments.
Article continues below advertisement
Segment performance
During 2Q17, shipments from the International Distribution segment rose by as much as 13.2% to 1.6 million tons from 1.4 million tons a year ago. The Potash segment was next with year-over-year shipment growth of 7.8% to 2.2 million tons from 2 million tons in 2Q16. The Phosphate segment's shipments rose the least by ~6.2% year-over-year to 2.6 million tons from 2.4 million tons.
During the earnings call, Mosaic's management stated that phosphate exports from China were higher than expected in the first half of 2017, which may explain why the company's phosphate segment's shipments remained lackluster. However, bear in mind that the company had guided phosphate shipments to range between 2.3 million tons to 2.6 million tons in 2Q17. So, the actual shipments were in the top end of the range. The pressure from China also impacts North America producers (XLB) PotashCorp (POT), Israel Chemicals (ICL), and Agrium (AGU).
For potash shipments, the company had guided for a range of 2 million tons to 2.3 million tons. Its range for the International Distribution segment was between 1.4 million tons and 1.7 million tons.