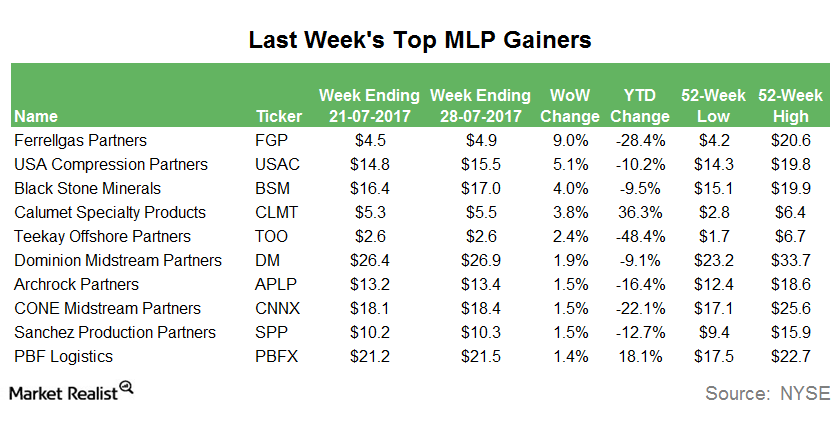 MLP Winners Last Week
Ferrellgas Partners
Ferrellgas Partners (FGP), the MLP involved mainly in wholesale and retail propane distribution, was the top MLP gainer last week, which ended on August 11, 2017. FGP rose 9.0%, which could be mainly attributed to the announcement of two acquisitions—Tennessee-based propane retailers Sevier County Propane and Lindsey Propane.
Article continues below advertisement
USA Compression Partners
USA Compression Partners (USAC), which was the among the top MLP losers in the week ended August 4, 2017, rose 5.1% last week. The partnership saw a new 52-week low due to the plunge after it reported flat 2Q17 earnings and missed its earnings estimate. However, it recovered slightly last week. Overall, USAC has fallen 10.2% in 2017.
Black Stone Minerals
Black Stone Minerals (BSM), which owns oil and gas assets in various US shale plays, was the third-highest MLP gainer last week. BSM rose 4.0% last week on strong 2Q17 earnings and increased guidance. The partnership's average production in 2Q17 increased to 37.3 MBoepd (thousand barrels of oil equivalent per day) and YoY (year-over-year) and QoQ (quarter-over-quarter) rises of 18.0% and 5.0%, respectively. BSM raised its 2017 production guidance to 37.0–38.0 MBoepd compared to the previous guidance of 35.0–37.0 MBoepd, a rise of 4.2%.
Article continues below advertisement
According to Thomas L. Carter, Jr., BSM's CEO (chief executive officer), "We've accomplished a lot in the first half of 2017 that sets the Partnership up well for the remainder of 2017 and beyond. We have reduced future capital obligations through our working interest farmout, successfully acquired new acreage in the Permian Basin and Haynesville/Bossier Shales, and taken concrete steps to drive increased drilling activity on our core East Texas mineral acreage."