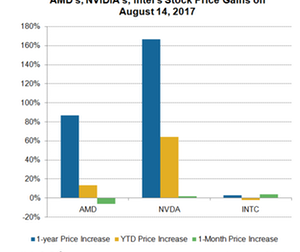 Mixed Sentiments Surround AMD Stock
By Puja Tayal

Updated
AMD stock on a roller coaster ride
Advanced Micro Devices (AMD) has been on a roller coaster ride for the past 18 months. A stock that was trading below $2 in February 2016 rose to its ten-year high of nearly $16 on July 27, 2017, when it announced better-than-expected earnings. The stock's rally started with the boom in the cryptocurrency market, where AMD's GPU (graphics processing unit) was preferred. As a result, AMD's stock rose 430% in 2016, making it the top-performing semiconductor stock (SMH) of the year.
Article continues below advertisement
There were several factors driving the stock's performance. However, this growth slowed in 2017, and the stock has grown just 12.7% since the start of the year. The strongest growth came as a result of its fiscal 2Q17 earnings beating analyst estimates by a huge margin. However, this growth was short-lived, as the earnings were followed by analysts' bearish reports for the stock.
Analysts' take on AMD
Wall Street analysts are divided on AMD. Goldman Sachs analyst Toshiya Hari and Barclays analyst Blayne Curtis warned investors not to get lured in by AMD's strong earnings, as they were largely driven by temporary growth in the cryptocurrency market. AMD stock fell 18% between July 26 and August 10, 2017, due to this warning.
However, some analysts believe that AMD still has hope as it launches the following higher-end CPU (central processing unit) and GPU products that compete with Intel (INTC) and NVIDIA (NVDA):
AMD launched its lower-end Ryzen 3 CPU on July 27, 2017.
It launched its very high-end Ryzen Threadripper CPU on August 10, 2017.
It launched its high-end Vega 64 GPU on August 14 and plans to launch Vega 56 on August 28, 2017.
While AMD and NVIDIA fight in the GPU market, they showcased sportsmanship outside the market. NVIDIA welcomed Ryzen Threadripper CPU and encouraged users to use this CPU alongside its GeForce GTX 1080 Ti GPU. The market seems to have been waiting for a CPU substitute for Intel.
The product launch wasn't enough to boost share prices. The third party reviews and customer reaction will determine the success of the new products. In this series, we'll look at the company's earnings and new product launches.