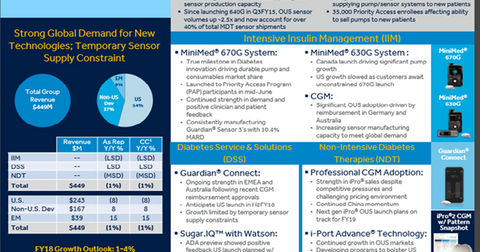 MDT's Diabetes Segment's Supply Headwinds Expected to Impact Fiscal 2018
By Sarah Collins

Updated
Diabetes Segment's performance in fiscal 1Q18
In fiscal 1Q18, Medtronic's (MDT) Diabetes Group reported revenues of $449 million, which represents a YoY (year-over-year) sales decline of ~1%. This group includes the Intensive Insulin Management (or IIM), Non-Intensive Diabetes Therapies (or NDT), and Diabetes Service & Solutions (or DSS) divisions.
Medtronic's (MDT) IIM and NDT divisions witnessed a decline in sales while the DSS division registered low-single-digit growth in sales. The company's DSS sales were mainly driven by momentum in the growth of Medtronic's Guardian Connect mobile CGM (continuous glucose monitoring) system in the international markets. This growth was particularly notable in EMEA and Australia, where the company received reimbursement approvals for the CGM.
Article continues below advertisement
However, the division growth was slightly subdued due to the sensor supply constraints. Guardian Connect was approved in Europe in July 2016 and is expected to be launched in the United States in fiscal 2H18. The Diabetes segment's sales in the US fell ~8%. The segment's emerging markets sales rose ~15%, and sales in the non-US developed markets rose ~8%.
Among Medtronic's competitors in the diabetes device market, Boston Scientific (BSX), Edwards Lifesciences (EW), and Abbott Laboratories (ABT) registered revenue growth of 6.2%, 11.0%, and 24.5%, respectively, in their recently ended quarters.
Investors interested in gaining industry-focused exposure to Medtronic can consider the iShares Russell 1000 Value ETF (IWD). IWD holds ~0.85% of its total portfolio in MDT.
Sensor supply constraints in fiscal 1Q18
The decline in Medtronic's Diabetes segment sales resulted from the temporary CGM sensor supply constraints. The company witnessed a tremendous surge in demand for its new insulin pump systems with sensors. The international demand for sensors saw a 2.5x increase in volumes. However, Medtronic has limited production capacity.
With the June 2017 launch of MiniMed 670G with Guardian Sensor 3 in the US, Medtronic has gained higher market share and registered growth in its installed base. This trend led to a higher-than-expected increase in demand.
After the 2015 launch of MiniMed 640G, Medtronic's sensor unit demand has doubled. The company had around 32,000 enrollees for MiniMed 670G priority access program, which was ~30% higher than the anticipated number of enrollees.
For further details of the devices and the priority access program, please read Diabetes Management Breakthrough: Medtronic's MiniMed 670G. These orders are expected to be fulfilled by fall. Because Medtronic plans to fulfill the orders for its installed base on a priority basis, the company is expected to lose some of the new patient system sales that are expected to generate high revenues.
Medtronic has accelerated its plans to increase its sensor production capacity. However, the new production lines are expected to be ready for commercial production by fiscal 4Q18. The company expects the Diabetes Group to register sales growth of 1%–4% in fiscal 2018.
Next, let's discuss the impact of IT disruption faced by Medtronic in June 2017.