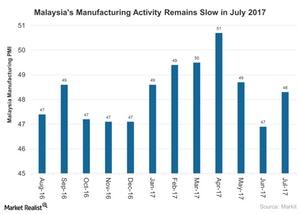 Manufacturing in Malaysia: What Happened in July
By Mary Sadler

Updated
Manufacturing activity in Malaysia
Manufacturing activity in Malaysia (EWM) remained subdued in July 2017. The manufacturing PMI (purchasing managers' index) remained below the critical mark of 50.0, which indicates a contraction in manufacturing activity. The Nikkei Manufacturing PMI in Malaysia rose to 48.3 in July 2017, compared with 46.9 in June 2017, according to the latest Markit report in August 2017.
This contraction continued in both output and new orders in July 2017, mainly due to weak market activity and demand.
Article continues below advertisement
Manufacturing activity in June 2017
Malaysian (EEM) manufacturing activity remained low as both output and new orders declined in July. The persistent weakness in several key indexes affected operating conditions that month. The July manufacturing PMI fell below the average PMI in the first half of 2017, suggesting a deterioration in manufacturing activity.
Output declined for the third-straight month in July 2017, although at a slower pace than in June 2017. New orders fell mainly due to weaker domestic demand, while international demand in July remained unchanged compared with June.
Purchasing activity and employment
Buying activity also declined amid falling demand in July. Fewer new orders enabled firms to complete unfinished business. On the contrary, employment increased amid improved expectations for the next 12 months. Employment rose for the second-straight month.
Price pressures and expectations
Price pressures have remained high in Malaysia, mainly due the weak exchange rate and rising raw material prices in July. Input prices declined from May levels, however, and output prices rose at their weakest rate so far in 2017.
The manufacturing sector in Malaysia (VWO) in July 2017 continues to be optimistic about the next 12 months. Most of the respondents to the July 2017 survey anticipate a rise in production over the next 12 months, with improved global growth expectations. Notably, international manufacturers operating in Malaysia include Intel (INTC), Dell, Flextronics Technologies (FLEX), and Advanced Micro Devices (AMD).