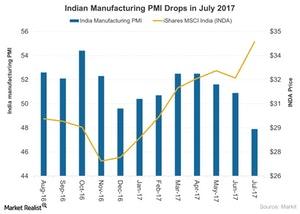 Manufacturing Activity in India Impacted in July 2017
By Mary Sadler

Updated
Manufacturing activity in June 2017
A survey of the manufacturing sector in India suggests that the introduction of a GST (goods and services tax) affected its manufacturing activity in July 2017. India's (INDY) manufacturing PMI fell to 47.9 in July from 50.9 in June, according to an IHS Markit report.
In July 2017, the manufacturing PMI (purchasing managers' index) in India (INDA) reached its lowest level since February 2009. GST uncertainty impacted activity in the sector. According to many Indian manufacturers, higher tax rates created greater cost burdens in July 2017, thereby affecting manufacturing activity.
Article continues below advertisement
Production expands at weaker pace
July's manufacturing PMI deterioration is the first suggestion of a decline in manufacturing activity in 2017, with the PMI falling below 50, a critical level. The slowdown was seen across the three broad areas of manufacturing, with intermediate goods producers experiencing the worst.
New orders dropped for the first time in 2017 and at the steepest pace since early 2009. The introduction of GST on July 1 seems to have affected the India's (PIN) demand conditions. Export orders continued to rise in July 2017, although the rate of expansion remained soft compared with June's eight-month high. Output also fell in July, in line with the overall reduction in the new work orders. A drop in production ended six months of consecutive expansion.
Employment and price pressure
Employment fell marginally in July 2017 after an increase from the previous month. Purchasing activity also declined with reduced output requirements. The contraction in buying was the quickest in eight and half years. Cost burdens remained high, with input costs increasing moderately and selling costs falling due to the competitive environment.
Expectations
Outlook for the next 12 months remained positive, as increased clarity on GST is expected to support business in 2017. Confidence remained at 11-month high, supported by new product launches and improved product quality. In the next part, let's look at Brazil's manufacturing activity.